An on-site office requires many things to start their operations. Executive desks are one of the basic requirements for offices. Whether you own a small enterprise or a large-scale business, your office needs best executive desks. A tremendous executive desk will not only help you with your work but also provides a designer space.
Desk construction includes a vast range of categories, from traditional wood models to modern space-efficient glass and steel designs. As you have endless options to choose from, confusion can be obvious. But make sure to go for a durable and robust desk that can offer a long years guarantee.
Things to remember during desk shopping
Having a comfortable office desk can help augment productivity and efficiency. The look of your workplace can help specify the vibes and feel you want your office to convey when someone enters. No matter whether you have a home office or a traditional setup, choosing the right executive desk is very important.
Before desk shopping, consider these factors.
Office space structure
Look at the office structure and take measurements to determine where you can place the desk and how much space is left. Look on to the answers of these questions to get a brief overview.
Is your workplace restricted with space?
Does your workplace have an open floor plan?
Is your office a closed-door one?
These points are essential when choosing the type of executive desk as you will want the table to fit in your workplace comfortably. Without proper symmetry, the office will look like a furniture disaster.
These points are also applicable to home offices. If you are dedicating a single room for all your work, then you will need a high tech self-sufficient desk.
Budget
Once you know the desk measurements that can fit in your office, you can start thinking about the budget. To narrow the selection process, further, try to filter the price range. It's a good idea to abide by the budget strictly.
You can find a wide range of executive desks online. Whether you want something elaborate or minimal, you need to fix a specific amount. The quality of desks entirely depends on the products used to build it. Do not go for cheap elements as they cannot withstand rough usage.
Existing furniture style
After considering the layout and budget, now you feel the style and design of your existing office furniture design. As we know, different patterns do not go well all the time. So, matching up all your furniture will light up the office ambience instantly.
Do you prefer mid-century modern textures or traditional styles? Do not worry; you can even reuse any existing desks to give a designer makeover. You can also shop desks according to colour or end-finish. If you love the wood finish, try to keep all wood-based furniture in the office.
Types of Executive Desks
Executive desks are a trendy choice for offices. Every office desk possesses some purpose like a desktop desk is meant for working long hours in front of the screen, so they are built to provide comfort to the user.
The executive desks come in various shapes, designs and sizes. Here are the three most common types of executive desks. If you are looking for the best designer office desk, do not forget to visit the official website of Auraa Design. You can find various options for office desks that too at the affordable price range. 
L-shaped desk
If your office includes unused corners, an L shaped reception desk is the ideal fit for your workplace. This desk has a large surface area, that means it will provide you with additional space.
This design looks great in corporate offices. As it provides a sleek modern look, most of the offices are choosing this alternative. This desk is affordable than others; you can keep your desk at a corner keeping most of the space open and ready to use.
This desk keeps things within your hand's range. And gives you a 360-degree open space. Make sure to check out Auraa Design for the latest price updates.
Rectangular desks
Rectangular desks are quite basic and are seen in most of the traditional setup. Rectangular desks are widely known as straight desks. This desk can be used in every office layout, as it requires a small space. It offers a proper symmetry to your office without overcrowding the area.
U-shaped desks
A small workplace often brings space issues, as space is limited, the furniture must be concise and space-sufficient.
These desks are unique than other furniture because they occupy significantly less space but provide a vast surface area for the users. Plus you can add storage closets to give a traditional look.
If you are looking for modern high tech furniture, then a U-shaped desk will be your favourite choice.
Conclusion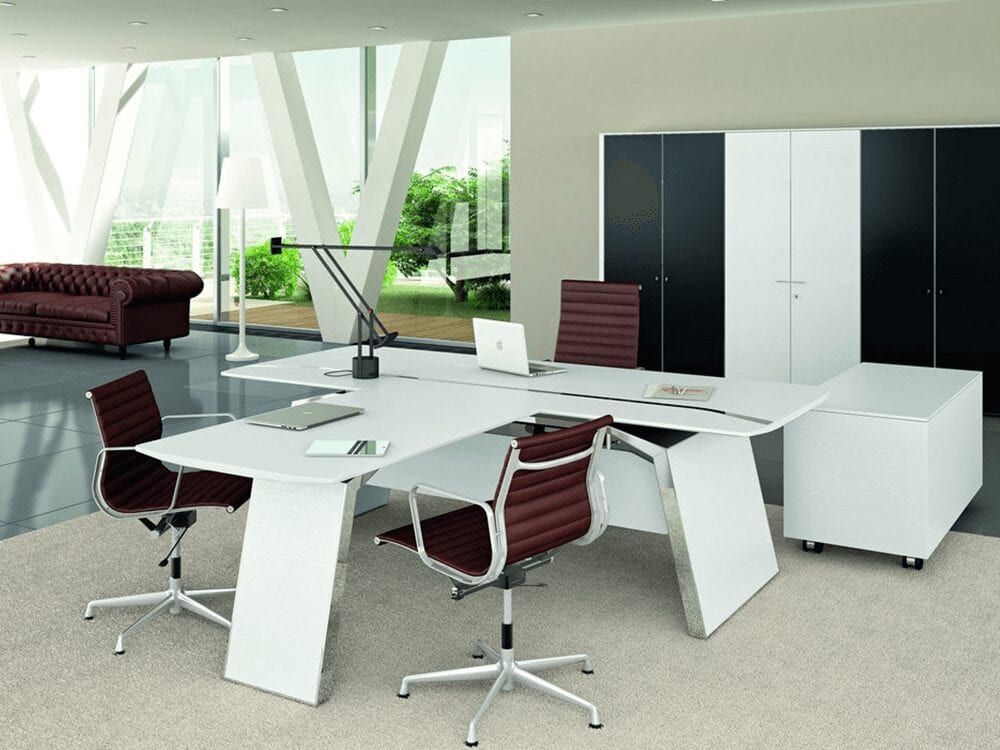 A company's executive will often achieve many awards and fill many roles. So, their desk should reflect a sense of authority. If you are looking for designer executive desks, make sure to visit Auraa Design. They provide a wide range of office supplies.
A corner desk is the best way to use less floor space and make the most of your workplace. Executive desks not only helps users to work but also provides a chic modern look to your office.
The style and design of the desk are vital as your workplace defines a lot about your personality. So choose an executive desk that reflects some keynotes of your character.