Replacing an old desk or creating a new workspace? Your desk choice will depend on how you want to use it, the amount of space you have, and your room's style. A desk must be chosen very carefully, especially if it is to serve as your daily workspace. Being relaxed at your desk and getting everything you need, close at hand, is crucial.
Corner desks are a great option, as their utility is far more than traditional desks. If you are tight on space or you are trying to optimise space, a corner desk is a great solution. They are perfect for work and home office environments, also ideal for accommodating awkward spaces.
Key factors to consider while choosing corner desks
Size
Always measure the dimensions of the space available for the corner desk. It must fit right in your working space. If the office space is large, it is ideal to choose a corner desk or a corner computer table that provides sufficient surface space. Medium and smaller corner desks are ideal for smaller workspaces. At Auraa Design, you will find a wide range of corner desk designs- small, medium, or large.
Capacity
It is crucial to consider whether the corner desk you choose will accommodate your equipment needs. The desktop space is one of the most important factors to consider while buying a corner desk. Always, consider the purpose for which the corner desk is to be used primarily.
Mobility
The desk you choose must be easy to move around as per your requirements. Having a very heavy, immobile corner desk in your workspace can prove to be an obstacle. You may have to renovate or expand your workspace in future. A heavy, immobile corner desk may become an obstacle in your future plans about your workspace.
Storage
Always go for corner desks that allow for plenty of storage space. It is crucial to keep your workspace tidy and organised. Auraa Designs provides a host of storage options for corner desks which include built-in drawers, pull-out laptop stands, and the like. Since corner desks have more surface area and all at an arm's length, there is also more opportunity to have more storage under and over the desk if required.
Material
Choose a material that is durable so that the corner desk lasts for a long time. It's better if the material is sustainable. Small corner desks UK is available in a wide range of designs and finishes. When it comes to the finish, the best choice for you will depend on how much you expect to use your desk and what purpose it shall be used for. At Auraa Design, customers can choose from a variety of options to match the existing décor of your office or workspace.
Budget and price
Instead of short-term savings, you need to pick desks with the long term in mind. Although a cheaper desk may save you money now, in the future it will cost you more because you'll eventually find it won't last long and need to be replaced. Therefore, always consider your budget and go for good quality corner office desks that can prove to be beneficial in the long run. Auraa Design provides a plethora of corner desk options in various price ranges that are suitable for your budget and needs
Advantages of choosing a corner desk
Corner desks are probably one of the most overlooked and underrated office pieces. However, with Working from Home gaining a lot of momentum due to the pandemic and otherwise, corner desks are the perfect choice for any office and home office environment.
Saving Space
The first and foremost pro with buying a corner desk is that it occupies lesser areas. Corner desks utilise the corner space and also gives more desk space without having a very long desk.
Streamlined design
The corner desk blends in with the room. It does not stand out much among other decors, unlike bulky tables. It gives any room a very modern ambience. In general, it is a great way to create an integrated workspace.
Privacy
A corner desk offers one a lot of privacy. It is impossible for prying eyes to access any information without the person coming to know.
Easy Access to Cabinets
Cabinets can be installed above the desk. For space below the desk, there is plenty of storage area available. One need not even stand up to take out files or belongings from the lower shelves.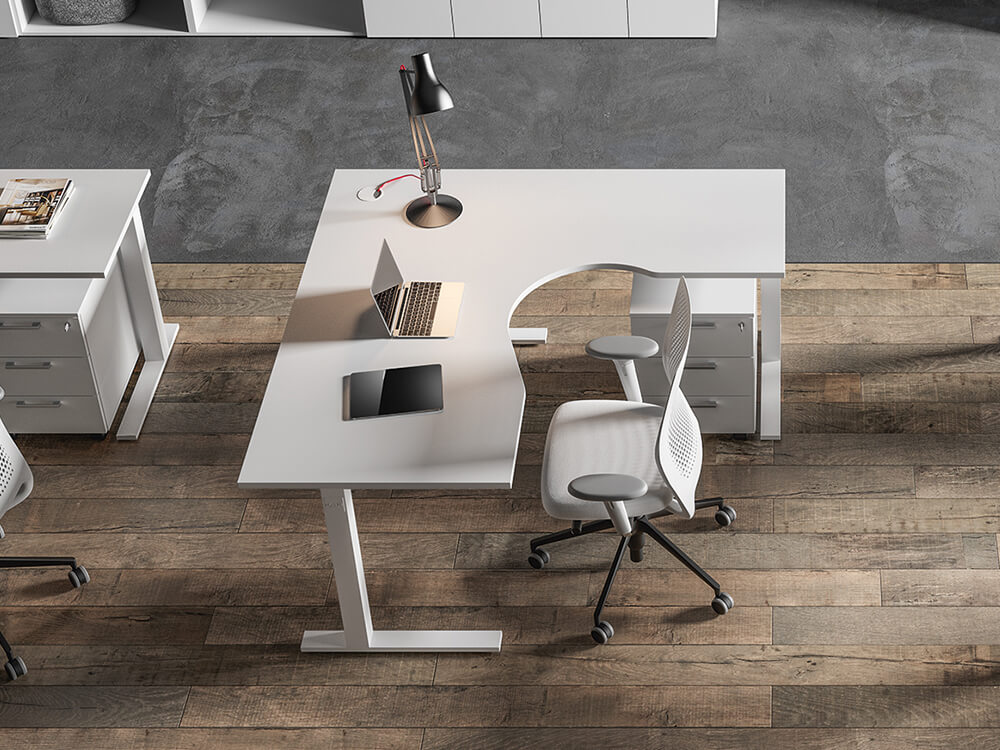 Corner desks can revolutionise a work area. From creating more space in the room to modernising the furniture, it is a perfect option for the small rooms. In short, it is a great buy for individuals working with a small budget. Auraa Design has an extensive collection of such desks that covers a range of colours, designs, and materials. You can choose one that suits best to the rest of the office. When the right corner desks are added to your workspace, the overall aesthetics gets a boost.