An innovative and well-equipped office environment is the best way to boost the strength of your staff. A workplace cannot be organized until it is equipped with designer office furniture. While building new offices, top companies take the time and help of the designers to design their offices. As such, designer office desks are always high in demand. 
Many high-end desks that have a sleek look and can be organized easily are trending these days. Their ravishing modern executive office desk designs look great with almost all office interiors, along with the benefits of being cost-effective. Here is a list of 7 high-end office furniture desks that will modernize your offices.
Oxford – Curved Executive Desk
Giving a high-class premium look, this designer office furniture has some unique properties that can be seen in its curved legs. They are formed from three high-quality thick wooden pieces that are linked together with perfection to give a sophisticated yet well-finished desk design.
The oxford- curved executive desk comes in Oak, Natural Walnut, and Dark Oak finishes. Each of these is carved with perfection to match with the office decor. Auraa Designs has these desks in different colours and sizes.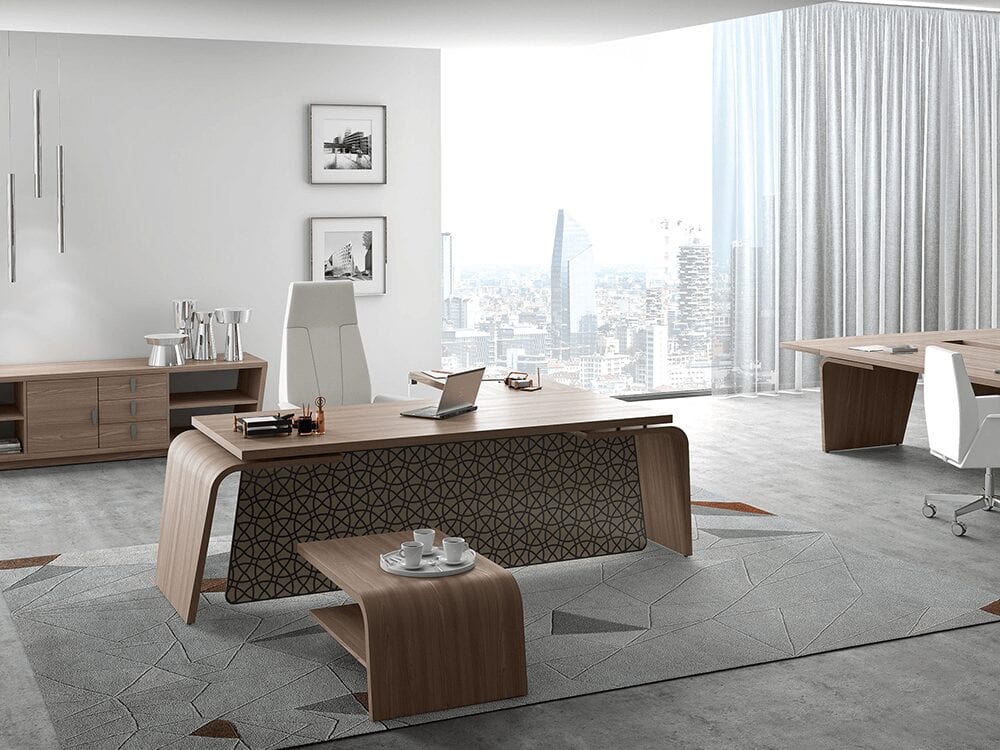 Moda – Curved Gloss Executive desk
This desk has a unique futuristic design with a fine touch of 70s retro attached to it. The curved glass desk is designed and created by the master of furniture design, Karim Rashid. This designer office furniture is neither too big nor too small, making it just perfect for any small or big offices.
The gloss executive desk is available in embossed matt and glossy finishes in shy pink, white, stormy black, inspired purple, fresh green, blossom orange, and cloud white shades at Auraa Designs.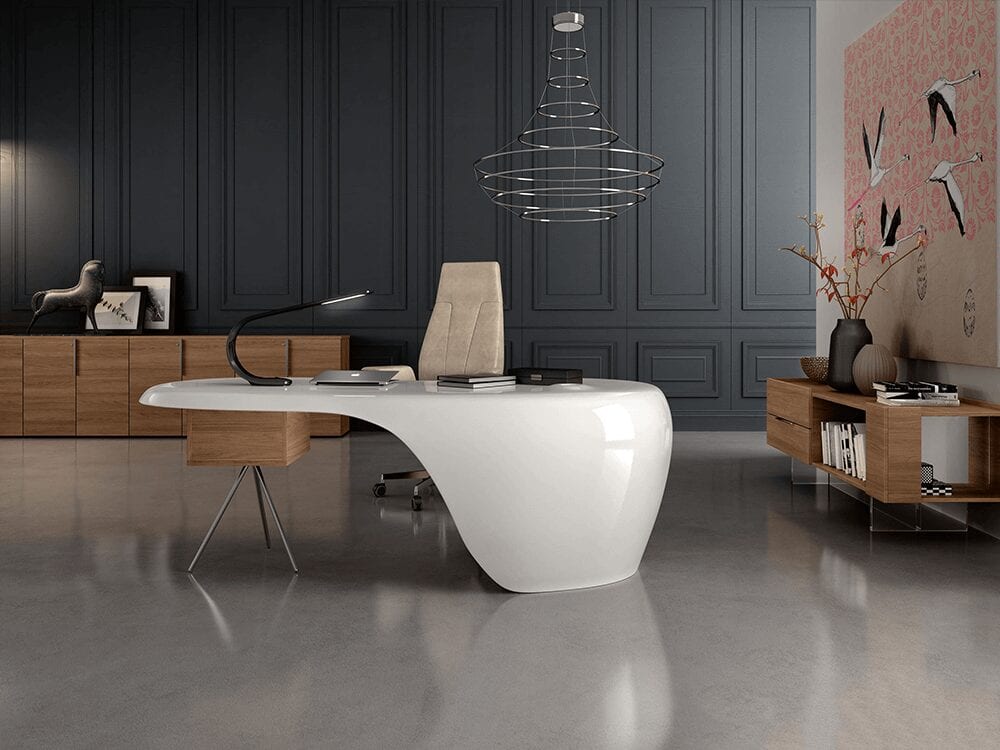 Darcey Prestigious Executive Desk with Porcelain Top
Giving the essence of luxury and an authentic high-class vintage look, Darcey is one of the most prominent and modern executive desks. With a variety of finishing options, the Darcey executive desk is an ideal choice for every office furnishings and are available at Auraa Designs.
With a wide variety of finishing in leather, wood, and porcelain, the designer office furniture gives a perfect contrast with an impression of balancing on two thin desk legs. For structural finishing, there are options in leather such as Anthracite, Beige, Dark Brown, and Red.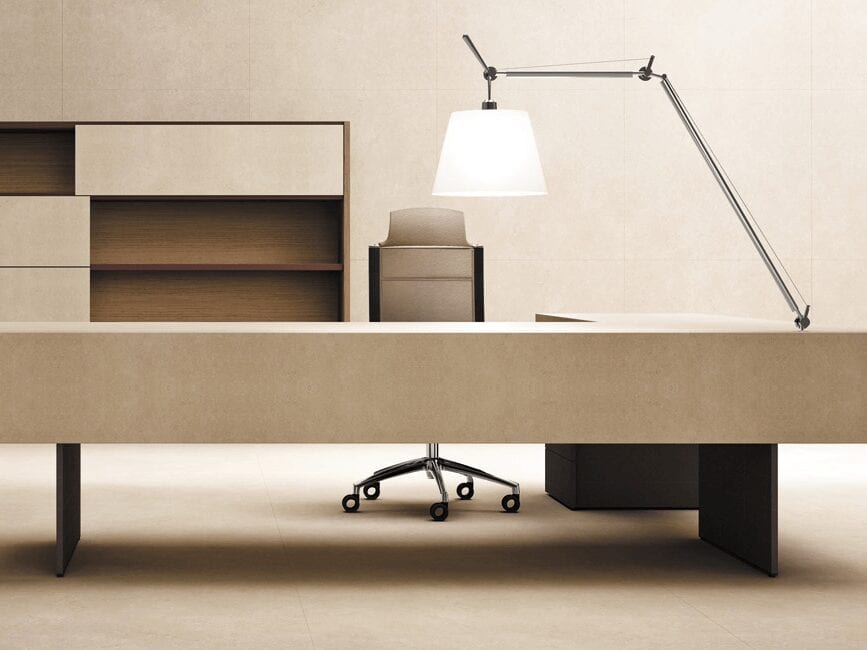 Naya Executive Desk
The design of this desk gives the perfect minimalist and stylish look. The joint that unites the edges and legs aesthetically define this desk. The minimalist design and a choice of host of colours and materials, fits perfectly in classic, natural or glamorous setting. Naya Executive Desk combines fine aesthetics, an exclusive vibe and pared-back elegant design.
This beauty fits perfectly in every office and home office environment. Though this is a high-end luxury designer office furniture desk, it is keenly priced to make it an affordable luxury.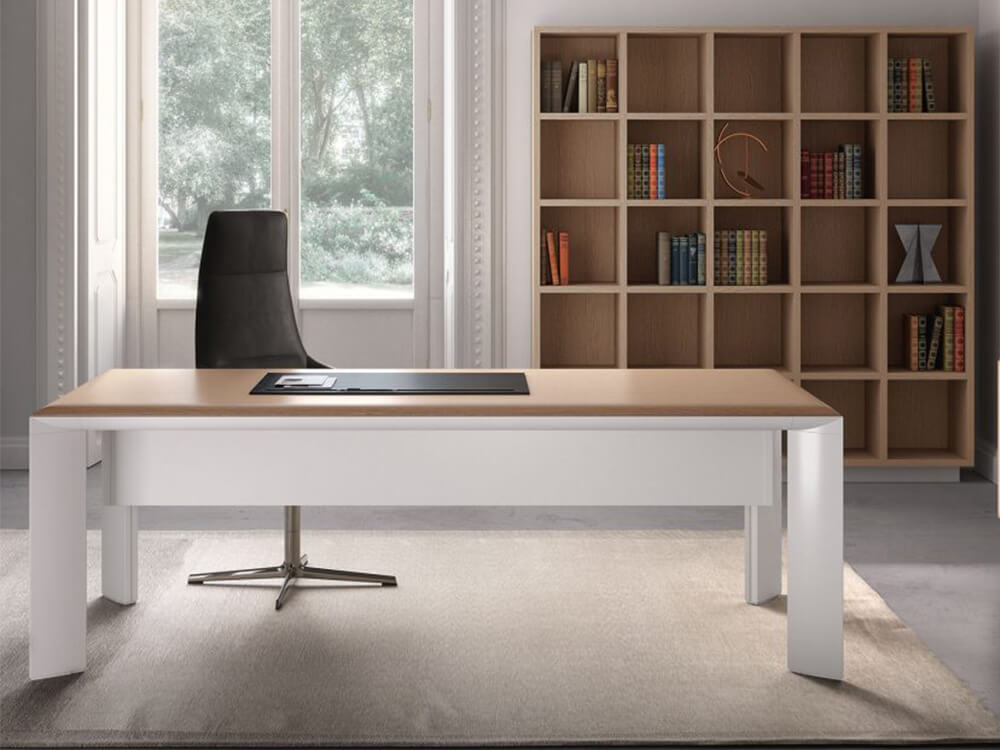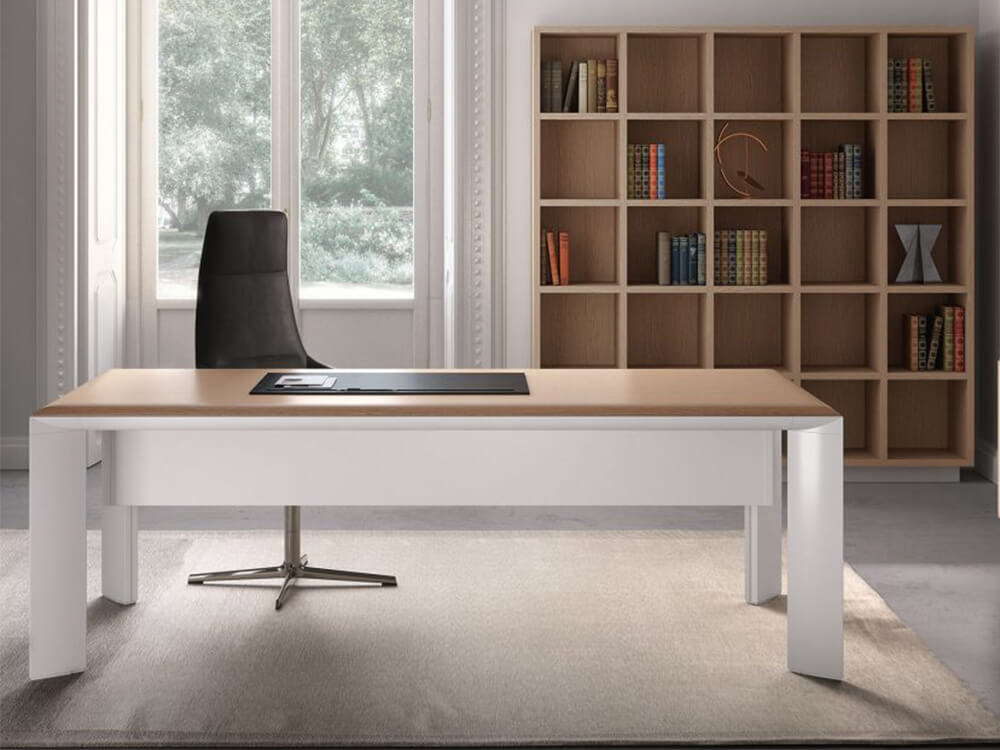 Forza 5 – Modern Ceramic Finish Top Executive Desk
Soft lines, textured finishes and modern details characterise Forza 5. It is a prestigious office desk available in various configurations of materials like clear glass, Ceramic, wood finish and colours.

It is a solution that enhances any office and home office environment. With a distinctive personality, Forza 5 Ceramic Finish Top Executive Desk could feature in every office desk design ideas for any workplace looking for a high-end luxurious look. The Forza 5 desk is available in different materials and finishes and can be designed according to individual preference and the décor of the office. It goes well with other furnishings as well.
You can find more like this designer office desk online at Auraa Designs, among several more.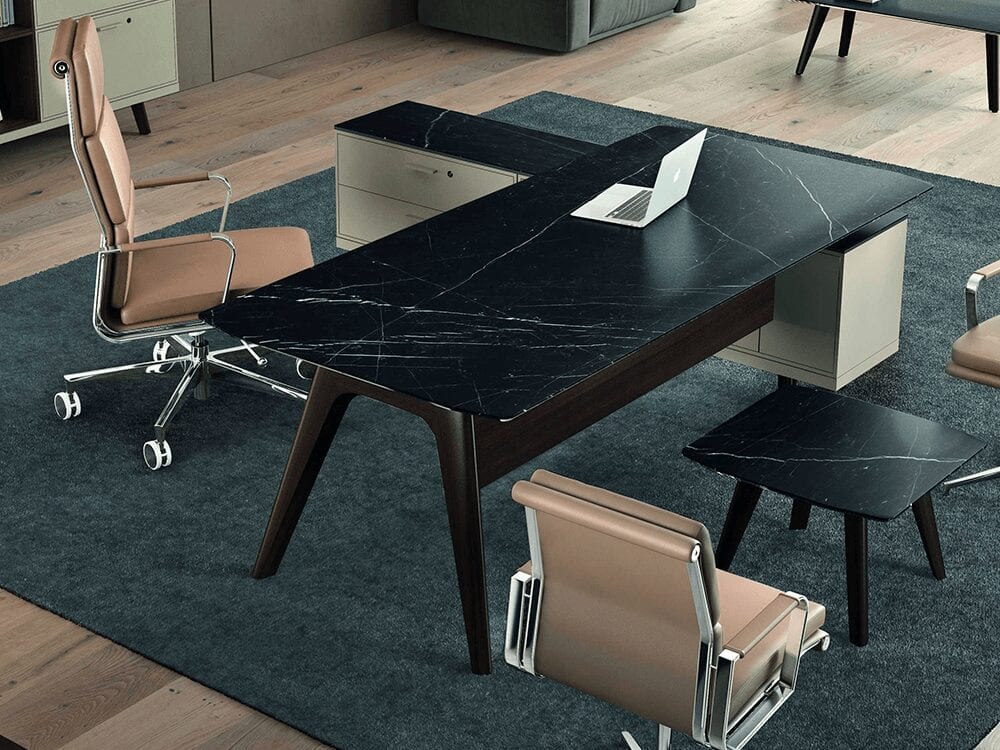 Futura 3 – Executive Desk
Modern Executives looking for something which defines them, Future 3 is the one. It will not only be liked, but loved for its modern original Italian design and combination of wood finish and chrome.
Its grand design makes the Futura 3 desk, the perfect Executive desk for highlighting the status of Executive environment. At the same time, the ergonomics of the desk takes care of those who work in the office or home office, facilitating everyday movements.
The Future 3 Modern Executive Desk with chrome highlights is conceived, designed and produced in Italy with pride. It is a supremely elegant luxury office desk that is made with the future in mind. A popular choice among office desk design ideas.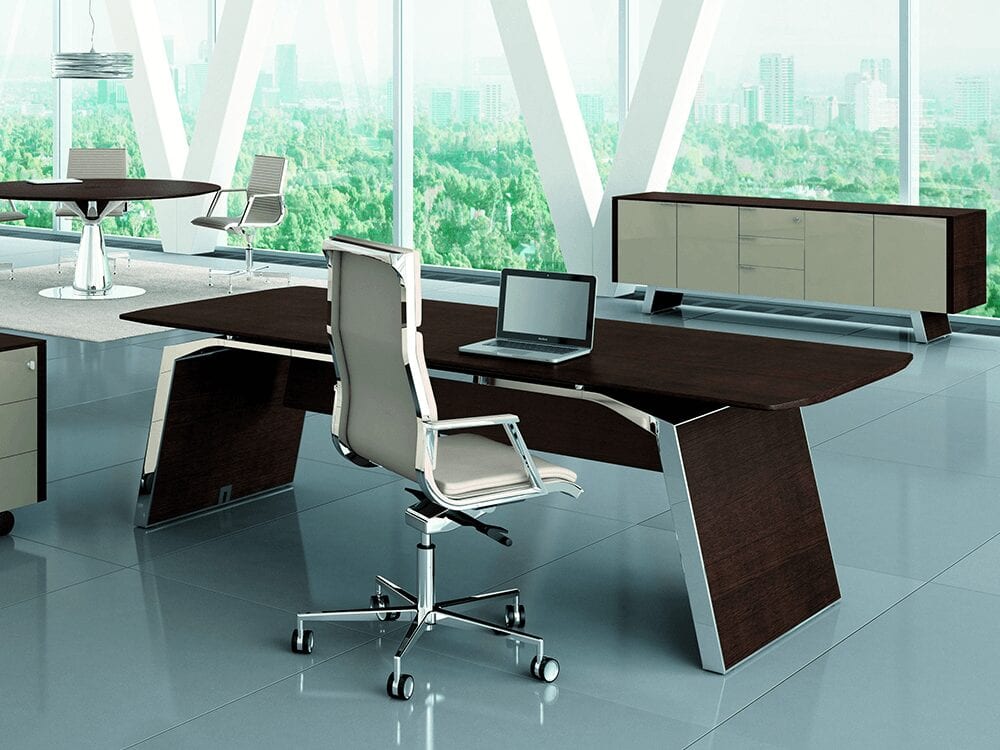 Ryder – Wooden Executive Desk
This desk is a perfect example of modern with class. People say, Design is awareness. While designing this desk, the designer must have been very well aware of the present and vision of the future. This desk was created in response to modern transformations of office environment and leadership styles.
Prime materials and fine finishes have been used in creating this desk. It is a great addition to any Executive Office of MD, CEO, Director, Partner and Senior Management.

For an office environment to be well-organised, the contrast and harmony between furniture & furnishing needs to be very well thought through. The Ryder Wooden Executive Desk provides that. A modern executive office desk design might be difficult to select, but with the help of the experts, choosing office desks and furnishings would no longer be that difficult. You can simply choose a designer office desk online in no time at Auraa Design, with its wide range of categories.