Introduction
Reception desks are an often overlooked item of furniture but when you consider that they are one of the first things seen when someone steps into your business then you are sure to understand the importance of selecting the right one with your office furniture design choices. Creating an environment that supports your business ethos will make visitors feel welcome and provide the consistent brand message you want.
To help you choose the right one, we have shared some of the most important considerations and a guide to help you choose the right type for your business. With our help, your office furniture design needs will be met with ease.
Considerations for buying reception furniture
When it comes to choosing your furniture, you must take the following considerations into account. Doing so will allow you to get the best results the first time around:
Work Out How Much Space You Have Available
One of the most important considerations when purchasing modern office furniture is the amount of space that you have available as well as the layout of your office area. Not only will your team want to avoid working in a cramped area, but your potential clients won't feel relaxed if they have to squeeze into an over-furnished space.
Taking the time to complete accurate measurements is the first step to ensuring that your new items will fit perfectly. However, you must remember that accessories such as chairs will need to be moved in and out of the desk space, so allow the additional room for this to happen without crowding the area.
Choose Furniture That Reflects Your Business Type
First impressions really do count, and this is not just limited to the team you have – furniture creates an impression too! When your clients arrive in your office space, they will start looking for clues about who you are and what your business offers. By installing the right reception desk, you can leave the right impression with ease.
Once you have decided on your desk, then you will need to furnish it to reflect your business. For example, if you own a traditional business, then you could use items such as plants and hot drinks dispensers, or if you are a creative design agency, then you may choose modern art or quirky items that reflect the personality of your business.
Think About Comfort Levels
One of the most important considerations is comfort for both your team and your visitors. If people are not comfortable, then they are less likely to feel positive about what you are offering and will not want to spend their time in your office.
Taking the time to source furniture that is ergonomic and comfortable will help increase productivity and leave guests feeling happy to be in your space. The same is important when it comes to choosing desks – rounded edges, height considerations and material choices will all affect the comfort levels of your new desk.
Keep An Eye On Cost
When it comes to office furniture design, it is easy to get carried away and want to buy the most expensive glass office table or the stunning corner reception desk that catches your eye but before you do, take a moment to check your budget.
Deciding on a budget prior to shopping will help you to make good decisions both stylistically as well as financially. Plus, there are so many great options out there that you should be able to get the result you want without spending more than the business can afford.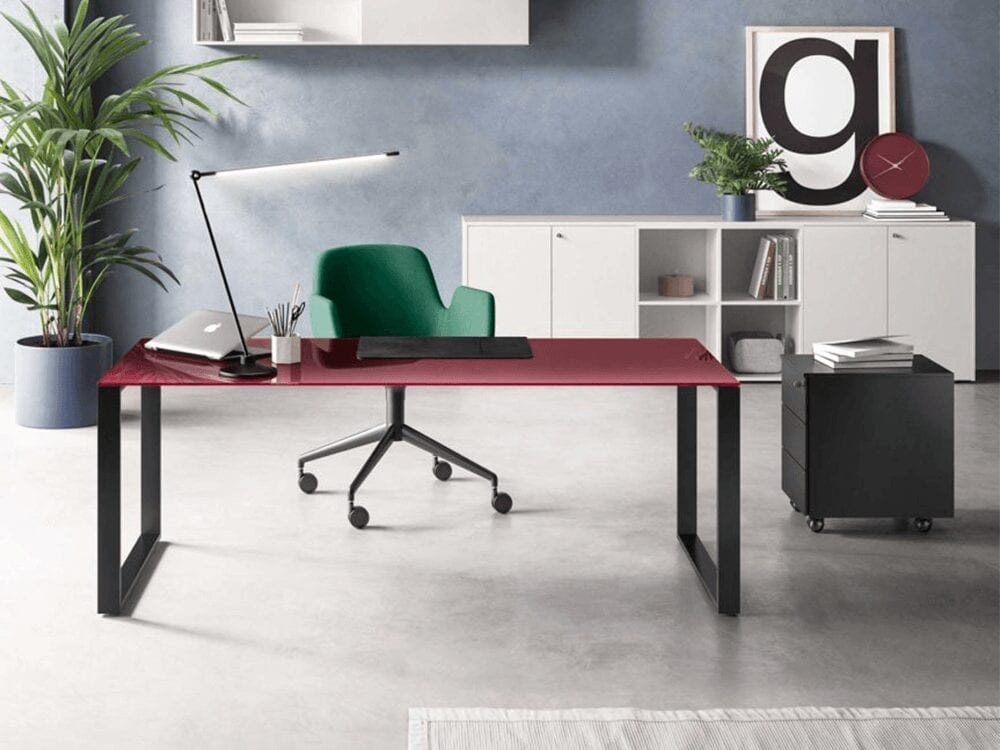 Don't Go Too Crazy
Finding modern office furniture that is unique and reflects your business personality is a great idea but be careful that you don't end up overcharged for bespoke furniture when there are plenty of affordable customisation options that will do the same job.
From colour options to specific materials, you can sell your brand by providing a consistent look or feel, creating a space that reflects who you are as a business that can be scaled to grow with your business in a way that suits your goals.
How to choose the right one from the different types of reception desks
Knowing where to start when it comes to choosing the desk for your reception area can be a challenge, especially if you are not experienced with office furniture design. To help you, we have shared five of the most commonly selected reception desks to help you make the right decision.
Curved Reception Desks
Choosing a curved reception desk is a great choice if you are looking for a contemporary design and like modern office furniture in your corporate space. Each curved reception desk comes with a range of colour and size options to enable you to align it with your space and your business style.
Glass Front Reception Desks
Choosing a glass office table is a great way to lighten a closed or dark space and gives your office a modern and contemporary feel. This style can come in small reception desk size all the way to multi-person reception areas, and you can even choose the colour of the glass!
Wood Effect Reception Desks
Wood is a popular choice when creating a corporate look, and there are many curved wood effect reception desks that will look great in your reception. Choose from a traditional look with dark wood or a modern effect with a light wood finish to convey the tone of your company.
Small Reception Desks
If you have limited space, then choose a small reception desk will help you maximise what is available. You can choose from round, squared or even a corner reception desk depending on the layout of the area and how restricted you are on space. By adding a smaller desk, you will help your reception area look larger than it really is.
Round Reception Desks
If you are keen to create an open plan reception space, then choosing a round reception desk will put your team at the heart of the room and give them access to visitors in a 360-degree way. This style of reception desk is modern and looks sleek in a larger office space. However, if you are looking for a small reception desk, then this won't be the answer as round reception desks need a lot of space to look their best!
Conclusion
Whether you want a large glass office table, curved reception desk or a corner reception desk, there are many great choices on the market for you to select from. The furniture you choose will be on display, providing the first impression to any clients that come through your door, so make sure it is in line with your corporate look so that people can understand your brand identity with ease.
Remember to take the time to plan, design and budget for your new furniture before you commit to buying it, and you will be able to enjoy your new items without any worries.