Glass furniture adds up to the visual aesthetics of your office. It levels up the executive factor to your workspace. Executive desks are key elements for any office setting. They are modern and professional executive desks for a fresh vibe in your office. They are a key element in any office setting, and the centremost attraction in any office. Classy and professional-looking executive desks are a must-have for that corporate vibe in your office. While there are varieties of desks to choose from, the glass executive desk is the most preferred for the professional setting.
Here is a list of the pros and cons of a glass executive desk that would help you decide if you should get one for your office space or not.
Pros of a Glass Executive Desk-
Look:
A glass executive desk levels up the professional look of your office. Sleek and classy by looks, they make your office seem more stylish. Available in various colours of glasses to choose from, you can select the colour that would suit the vibe with your workplace. Auraa Designs provides assistance to help choose from their wide range of glass office desks.
Maintenance:
Glass furniture is easy to maintain. They clean easily with simple wiping and need less care. While wooden executive desks need varnish to make them shine and look more lustrous, glass executive desks need no such extra care. They are glow by default, and a simple wipe with cloth would glisten the entire desk.
Resistance:
Contrary to a common myth that glass furniture is not resistant, the sleek pieces of furniture are non-porous and don't get tarnished by sunlight. Unlike wooden tables that are prone to bacteria and small insects, glass executive tables are safe and do not allow any insect to feast upon, since they are not porous.
Handling:
It is easier to transport a glass office desk than a wooden or plastic office desk. The upper surface of the glass is easily removable, making it easy to handle and move whereas, wooden and plastic furniture have attached parts that make it difficult to carry and travel.
Safe:
Glass is manufactured from harmless substances, unlike plastic. They do not contribute to harmful exhalations as plastic materials do. Also, wooden furniture is prone to contribute to dust allergies since they get dirty quickly and can be infested by pests and small insects. Thus, a glass office desk is the safest option of the three.
Comparatively lighter:
Glass is comparatively lighter in comparison to wood. As discussed above, it makes glass desks more convenient to use, store and carry. Noteworthily, the glass executive desks are made of different types of glass materials; some may be heavier than others but add up the feel of working with a glass desk.
Heat Resistant:
The glass reflects heat. Being said that, the glass executive desks would insulate the heat and won't be damaged when you place any hot object on the table. For example, a coffee spilling on your desk won't damage the surface more than it would do on a tabletop made of low-grade plastics. Moreover, the glass surface reflects sunlight and adds a glaze to your office workspace.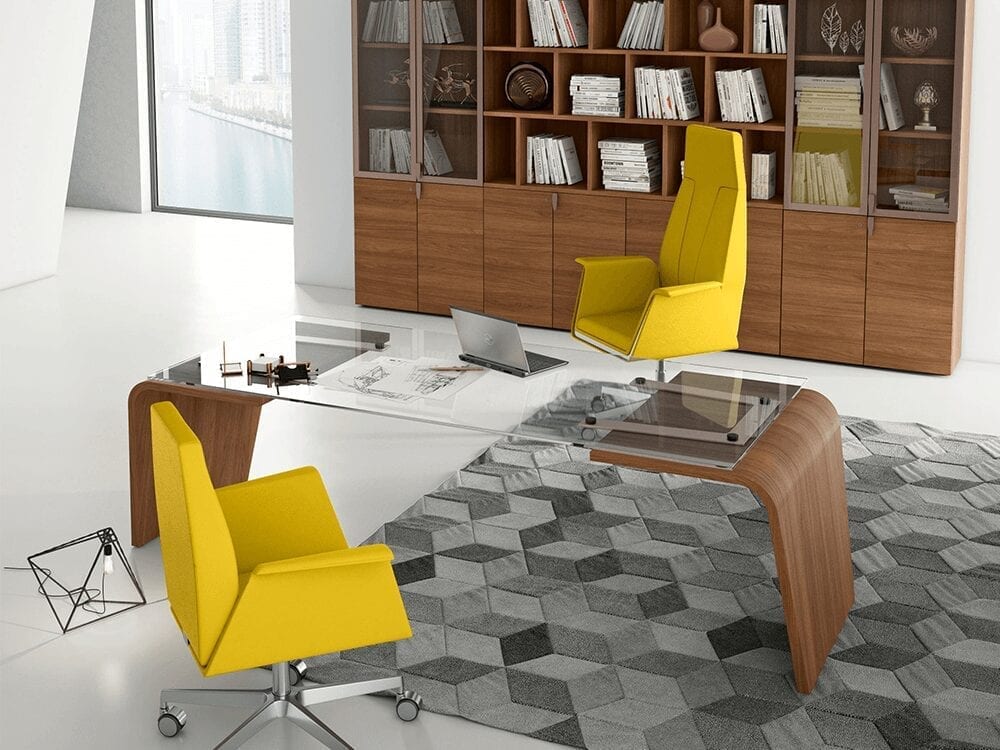 Cons of Glass Executive Desk-
Prone to scratch:
Glass surfaces are easily scratched and are prone to scratch marks on the surface. Simple wear and tear with a sharp object may create a mark that would last forever. It is the only problem one may face with any object made of glass materials. When buying a glass office desk, you should be careful of the fact.
Prone to breakage:
Glass materials are strong yet breakable. If your office workspace demands the need for a desktop or heavy printers, or you have a habit of sitting on your tabletop, beware! The glass tabletop can't withstand heavyweight objects and will shatter in seconds. However, heavy glass executive desks are available in the furniture stores.
Price:
Of all, glass executive desks are slightly more expensive than similar wooden desks. The material being sturdy, sleek and modern, these tables cost a bit more. But, considering the benefits they serve, it can be said that they are worth the price.
No storage space:
Glass executive desks lack storage space or compartments. Since manufacturing these compartments is not feasible, designers have tried to come up with a wooden base with drawers, and glass tabletop, which would serve the purpose of both.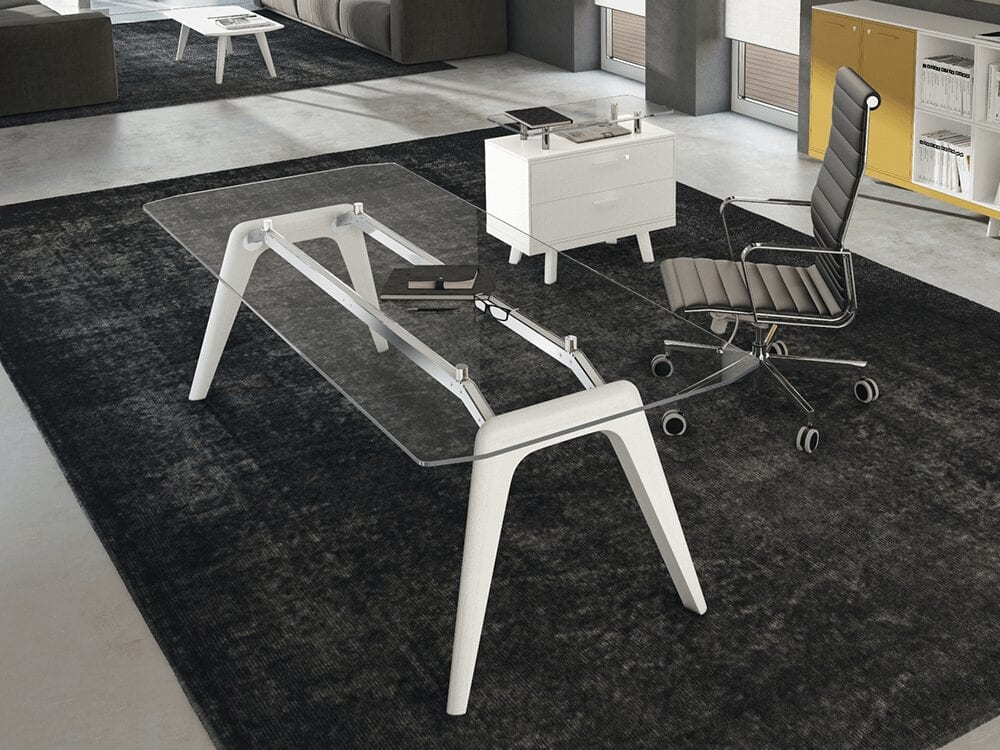 Summarising, glass executive desks are classy-looking, safe and need less maintenance. However, they are expensive, which is justifiable for the advantages they serve. They are available in different variants, and selecting the right variant for your requirements would serve the purpose.
Auraa Designs have a wide range of glass executive desks that would suit every office vibe you desire. Being the #1 furniture store in the UK, our products are made of high-graded glass materials and are available in exclusive and sleek designs. Call us now to complete the executive feat of your workspace.