The moment a customer or client enters your office space, the first thing their eyes land on is the reception desk. Interiors of office space are a crucial aspect, starting from the reception area. The front desk of your office is the area people engage the most with, especially for queries and appointments. The modern reception counter anchors the entire theme of your space, setting a certain kind of mood or expectations for the customer.
Reception desks, other than a wide-smiled representative, are adorned with pleasant artwork, warm lighting, and an aesthetic colour palette. To make your reception area stand out, a contemporary reception desk can make it happen. With a variety of styles and surfaces, there is a lot of room for experiment. For a better idea about the range, you can visit Auraa Design and get inspired.
Talking about trends and uniqueness, here are the top 10 modern reception desks that can be a perfect fit for your office:
Receptionist Desk with a Glass Top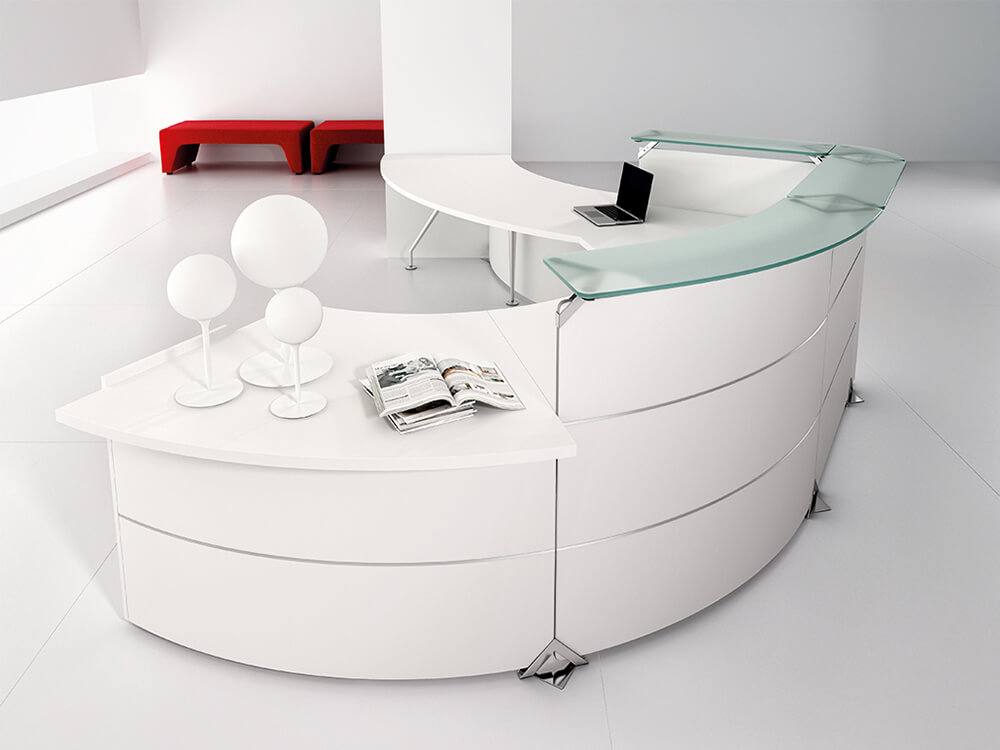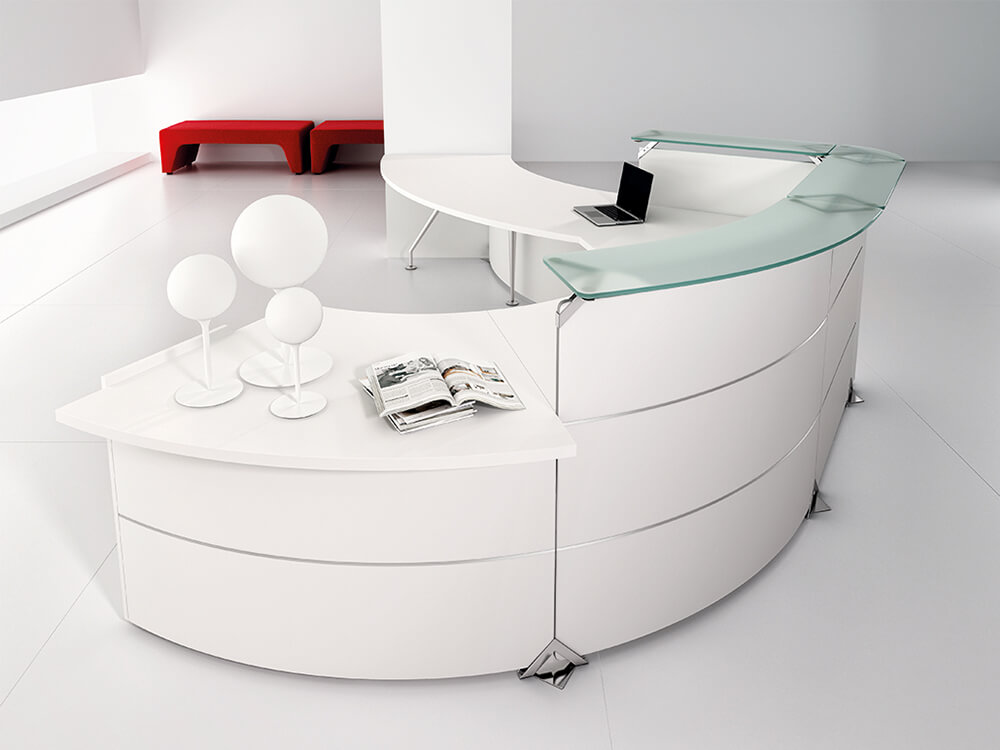 A glass reception counter may sound basic, but its charm is neverending. The simplicity of this commercial-grade laminate desk is commendable. It comes with enough storage and sorting spaces like drawers and file boxes. It gives a finished look to your space and can blend with all kinds of interiors and colour schemes. Frosted glass tops or clear glass panels can elevate a somber desk.
Wave-Style Reception Desks
If you are looking for a modern reception desk, waves are the way to go. You can opt for a curved reception desk to induce a calming yet creative effect in your office. This desk is appropriate to accommodate two receptionists and can be completed with a vertical garden setup. You can either opt for a wave texture or a deeper, molded curve on the front surface.
Straight Reception Desks with Overhang Panels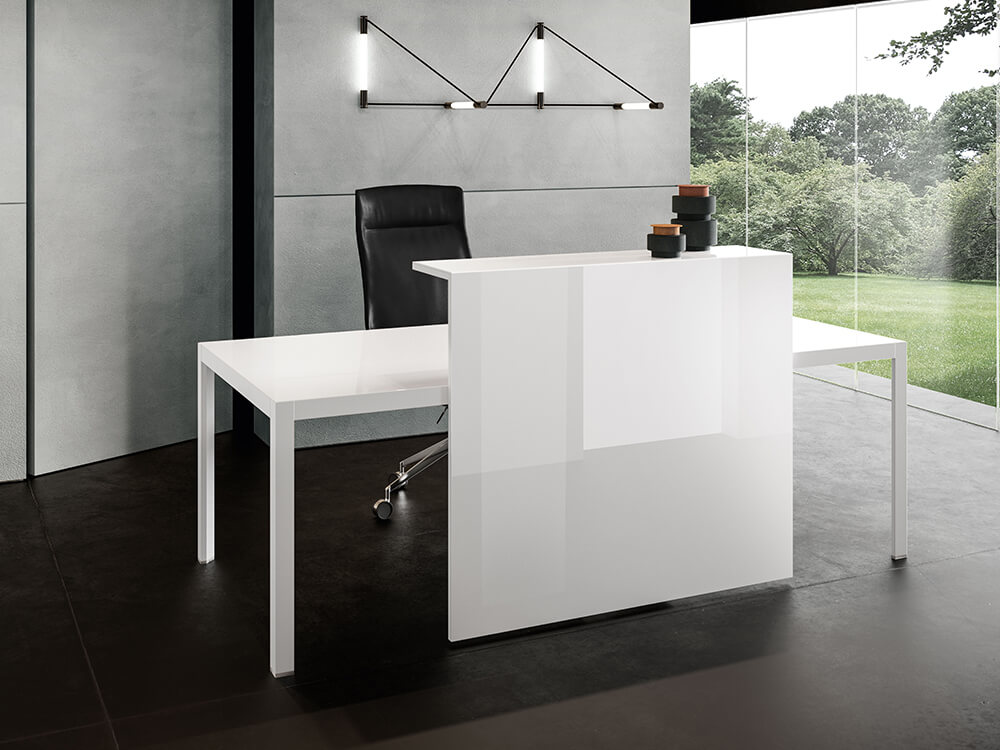 Minimalism goes a long way. Straight desks, in white, with overhanging side and front slabs or panels is the definition of sleek. You can add a glowing or floating effect by installing LED light strips under and around the panels. Choose vibrant colours to amp up the space. On the side, you can opt for a DDA-approved wheelchair access section.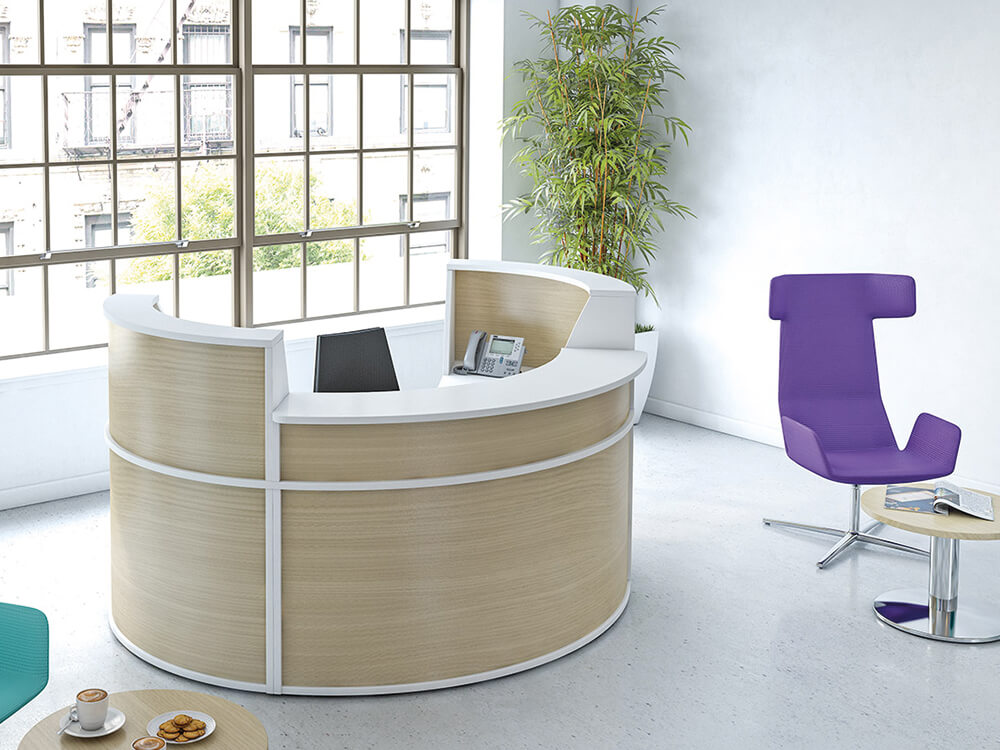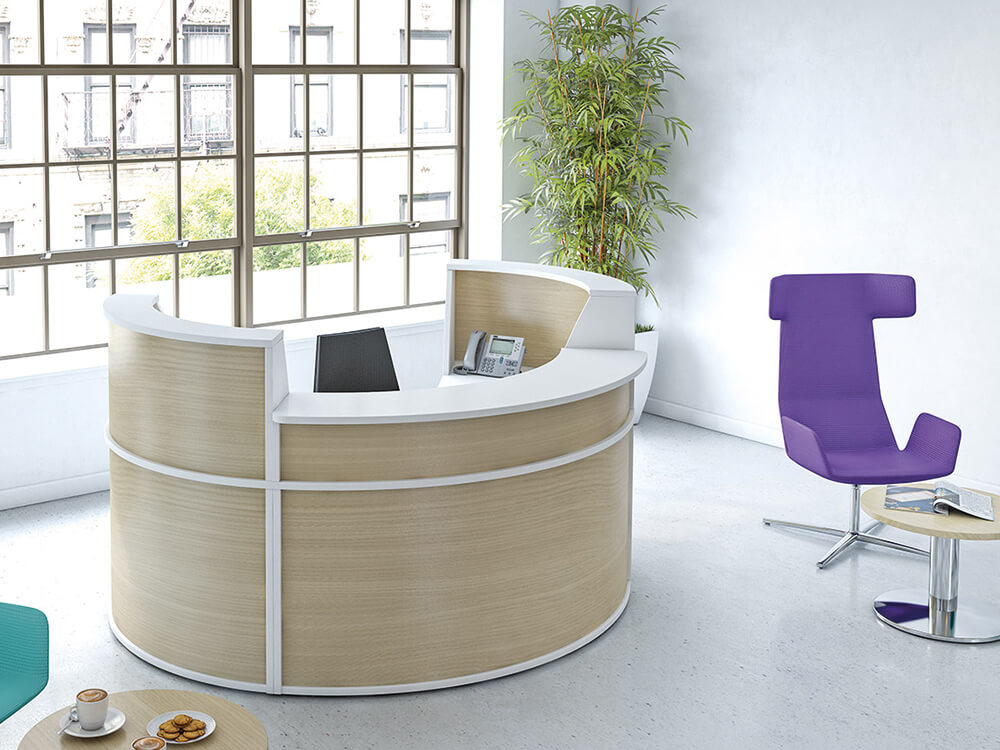 Another stunning reception desk is a circular enclosed reception desk. It is an affordable yet sophisticated option. Circular desks have a comforting element that can be paired with warm colours for a modern reception area. It would look exceptional with an office space with long windows and ample natural light.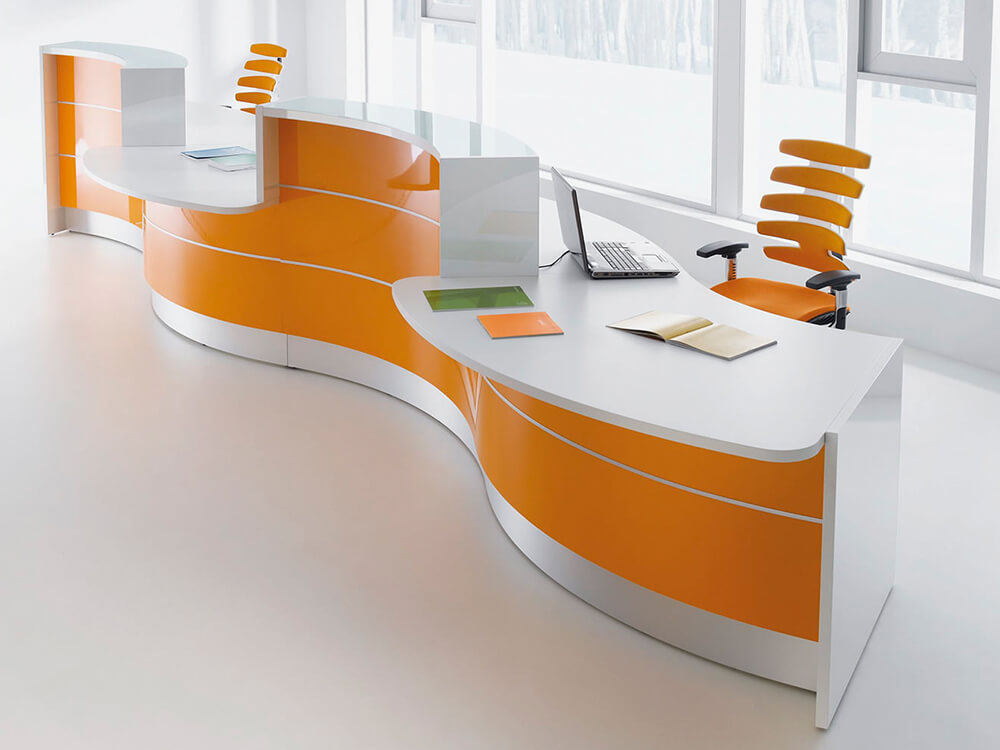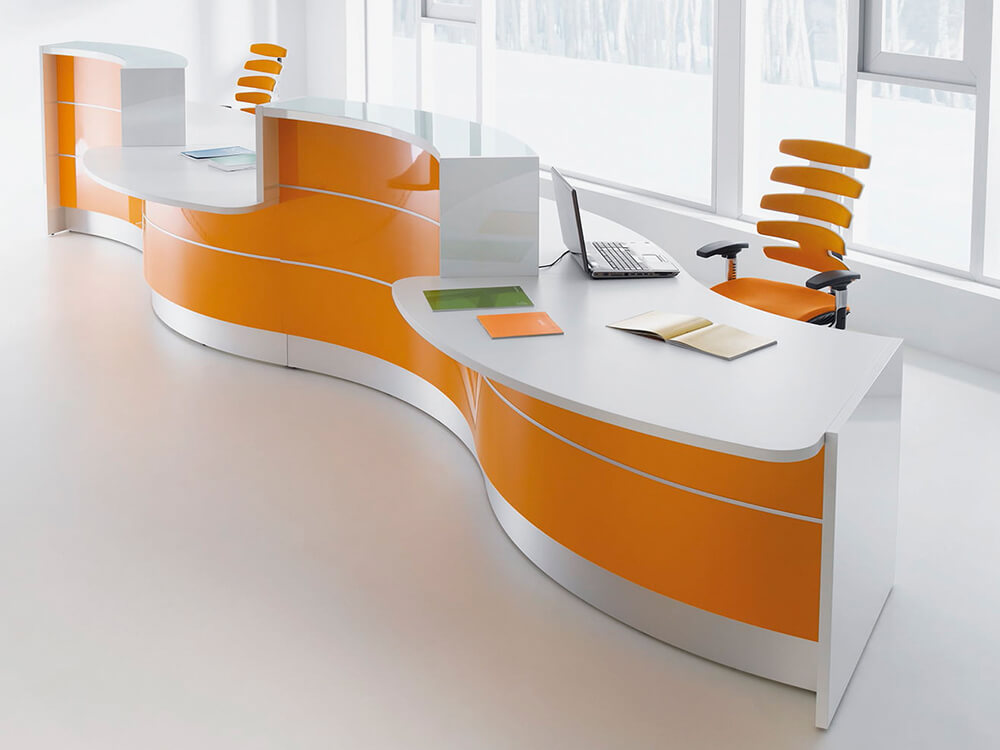 Reception desks with shaped front panels are an intriguing option for an office dealing with creative work. You can find triangular-shaped surfaces on reception desks at Auraa Design. Though geometric might sound risky, the final result is delightful.
Corner Desks Contemporary Corner Reception Desks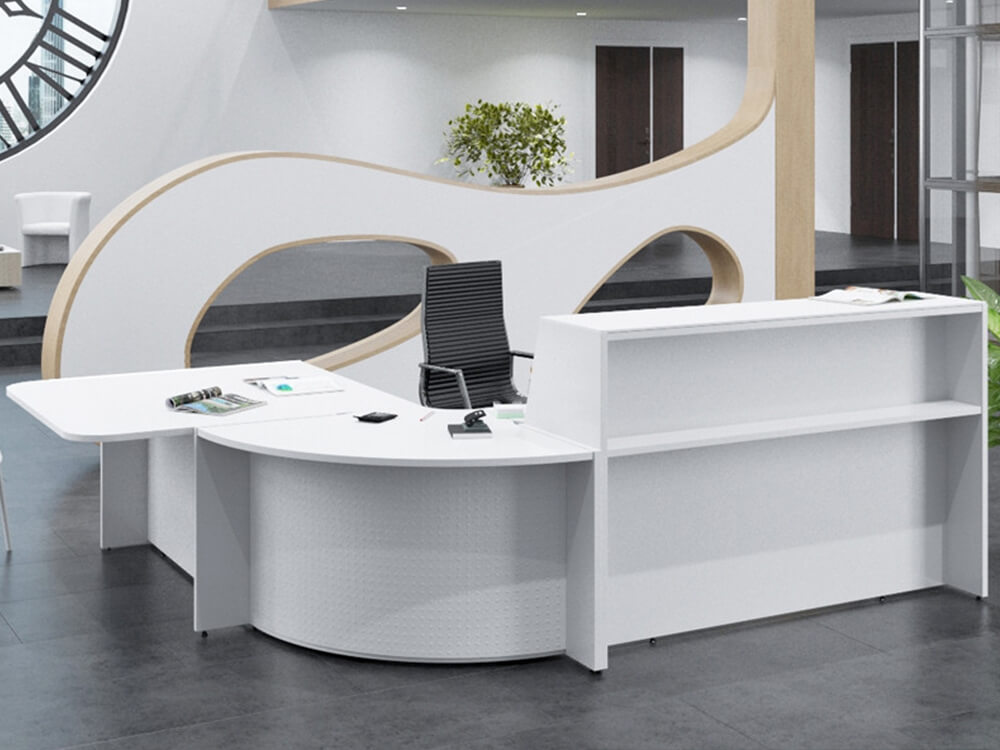 Corner desks may not seem like a modern element for reception desks; however, chic designs in terms of laminates and desks material do the trick. Corner desks offer a polished and professional look to your whole workspace.
Mixed Material Reception Desks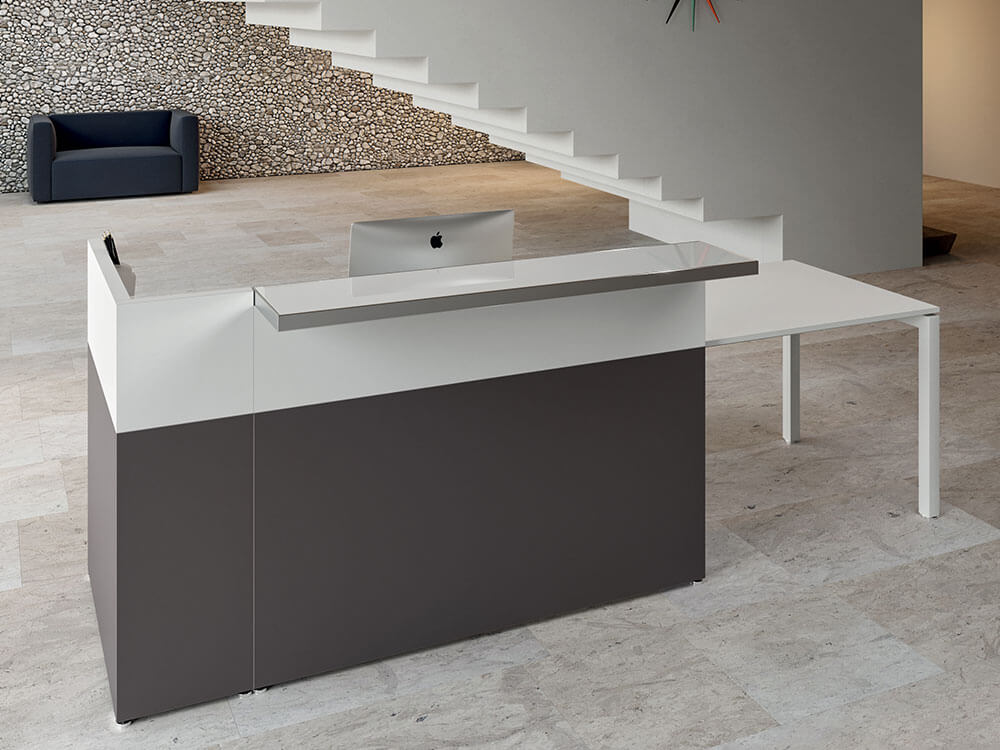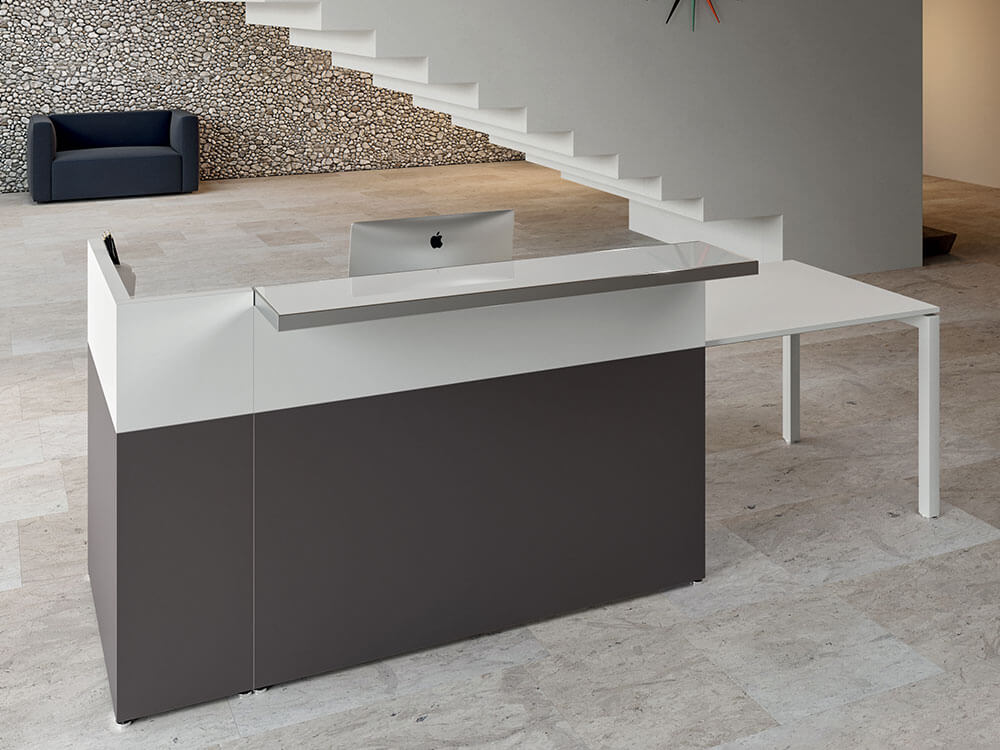 Reception desks with the best of both worlds is an absolute showstopper. There are reception desks made with a blend of natural materials like wood and modern elements like glass. Even the amalgamation of glass, wood, and metals can work wonders. If not the entire desk,the stone glass wood veneer lacquered, laminate reception counter can also play the part.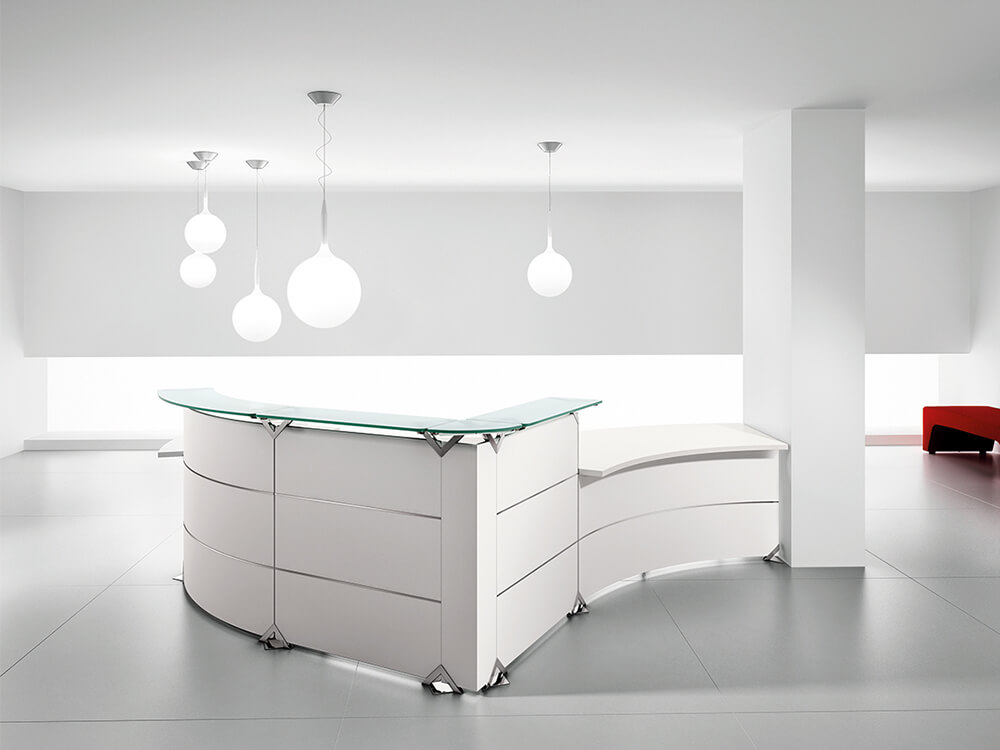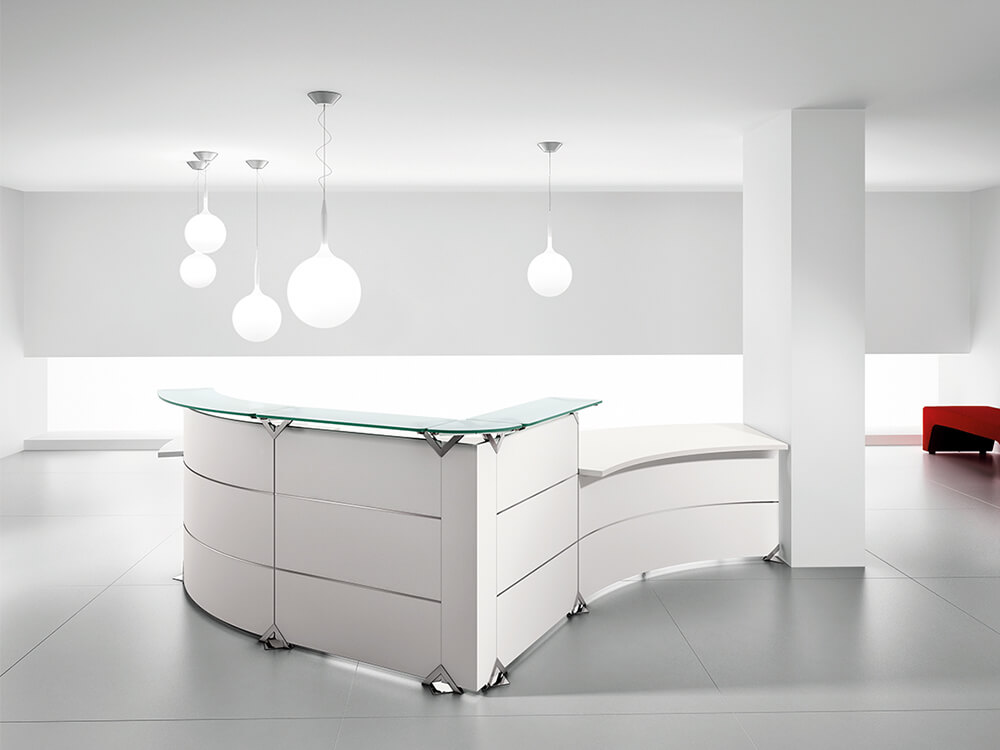 A little less than a circle but even more elegant. For large workspaces, a reception desk consisting of several curves combined can be a masterpiece. With a spacious counter area, more than one person can work seamlessly around the reception. To accentuate the table's curves, minimal lighting, and veneer panels, your workspace is ready to attract clients.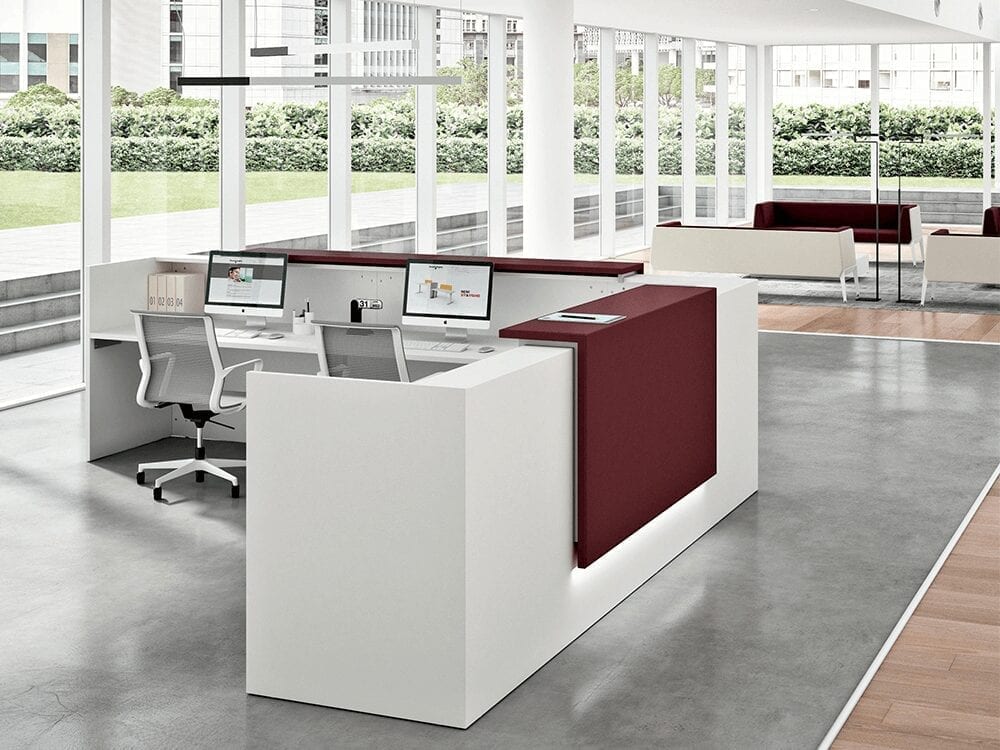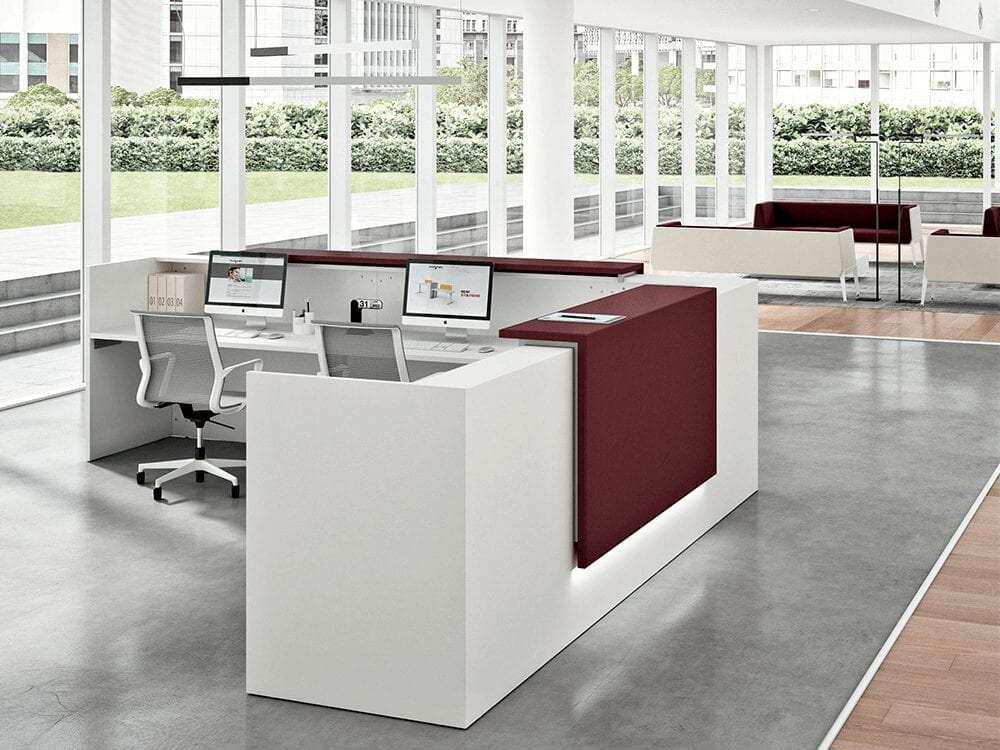 L-shaped reception desks are ageless and fit immaculately in any office space. Modern L-shaped reception desks come with a combination of materials, countertops, and textures. With lush plants at the ends, a simple L-shaped desk can look quite charming and welcoming.
Closed Sides Reception Desk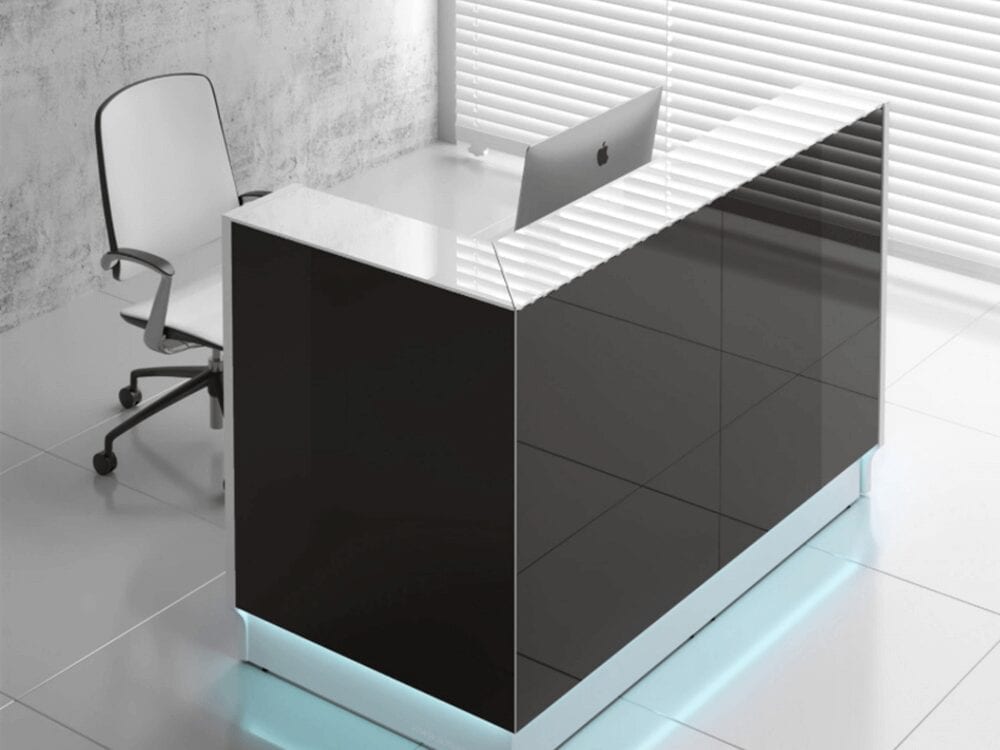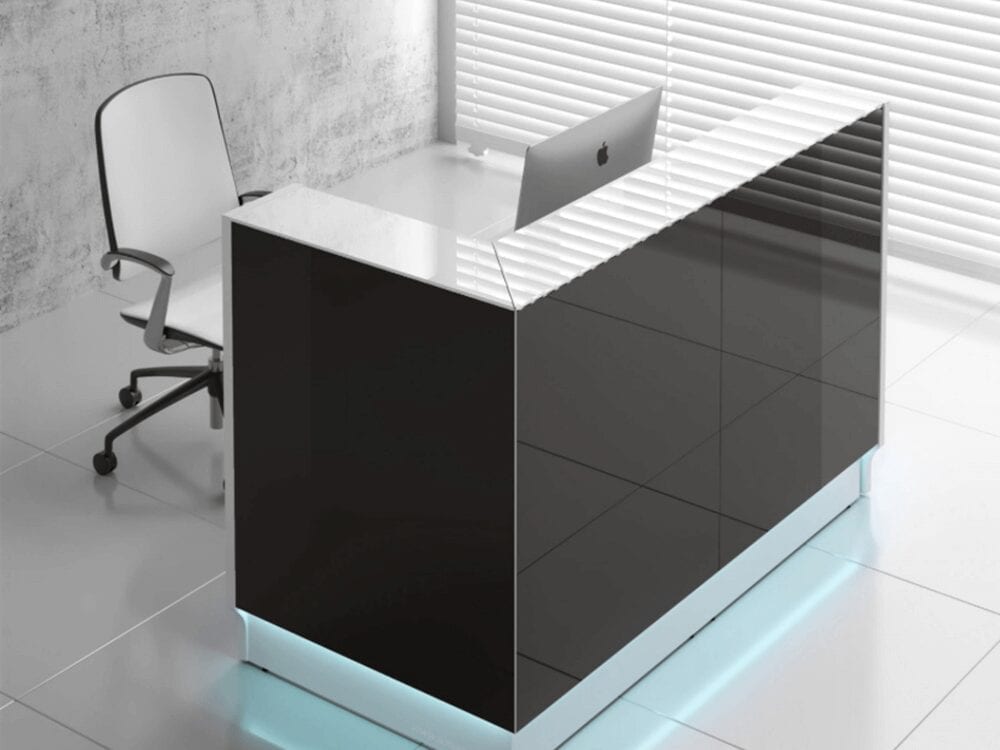 A modern reception desk, with closed sides, certainly is a statement piece of furniture. You can either opt for two sides at a higher level, a middle pit, or a single-level surface with closed ends. This desk can be customized with beveled panels of metal or veneer and ensure a secluded space for all administration purposes and offers ample space for files and folders.  Adding character to your office space is a must, and there's nothing better than a contemporary reception desk to make the magic happen. There are several platforms to find a complimenting reception counter, but Auraa Design stands undisputed. Visit us today and get the best furniture for your workspace!