We all know how important a comfortable, inviting atmosphere is for our overall mood and productivity. It applies to every aspect of our lives, and our work environments are no exception. Investing in stylish office designs can help you blend the comforts of home with a professional business image to create a happy and healthy work environment for your team to thrive.
Tips to make your office more modern and stylish
Considering office improvements is a great way to refresh your business look without radical changes like rebranding or relocating while still giving your office that "new" feeling. But, if you wish to refurbish your office, it can be tough to gauge where to start. Here are a few tips for creating a modern and stylish office to help you get started.
1. Focus on the lighting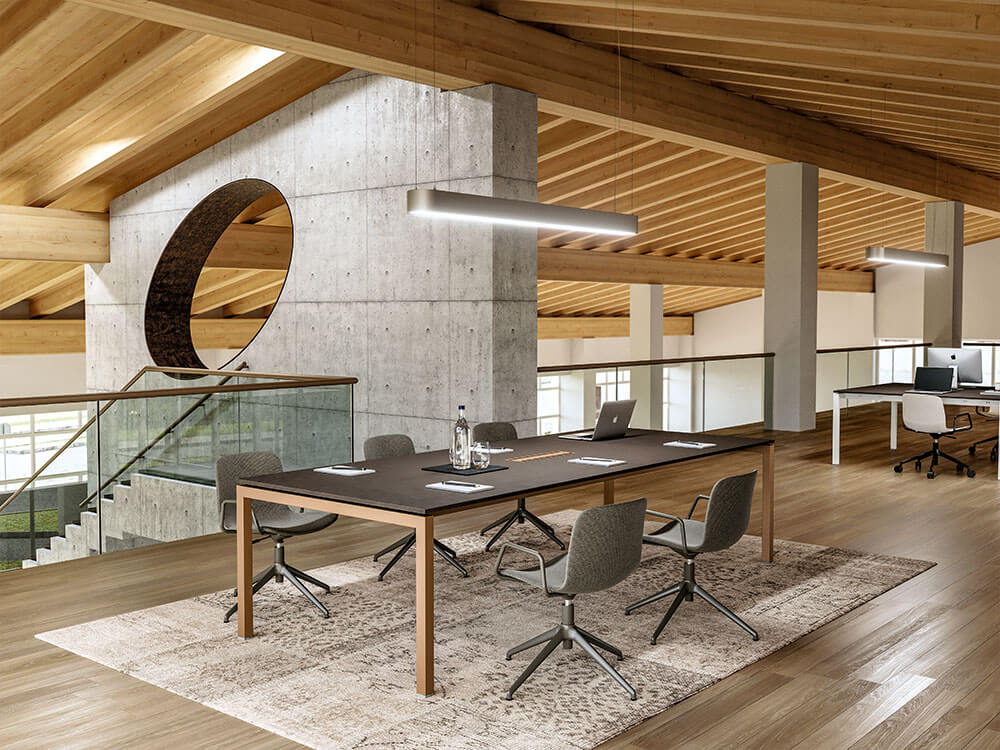 Nothing highlights a great workspace better than a natural and airy environment. Natural light has proved to be one of the best ways to make people happier and more productive. Let natural light into your office by ditching the shades and reducing artificial lighting as much as you can to create a more inviting atmosphere. You can also opt for stylish office LED lights instead of harsh fluorescent bulbs to make your office space more modern and energy-friendly.
2. Prioritise comfort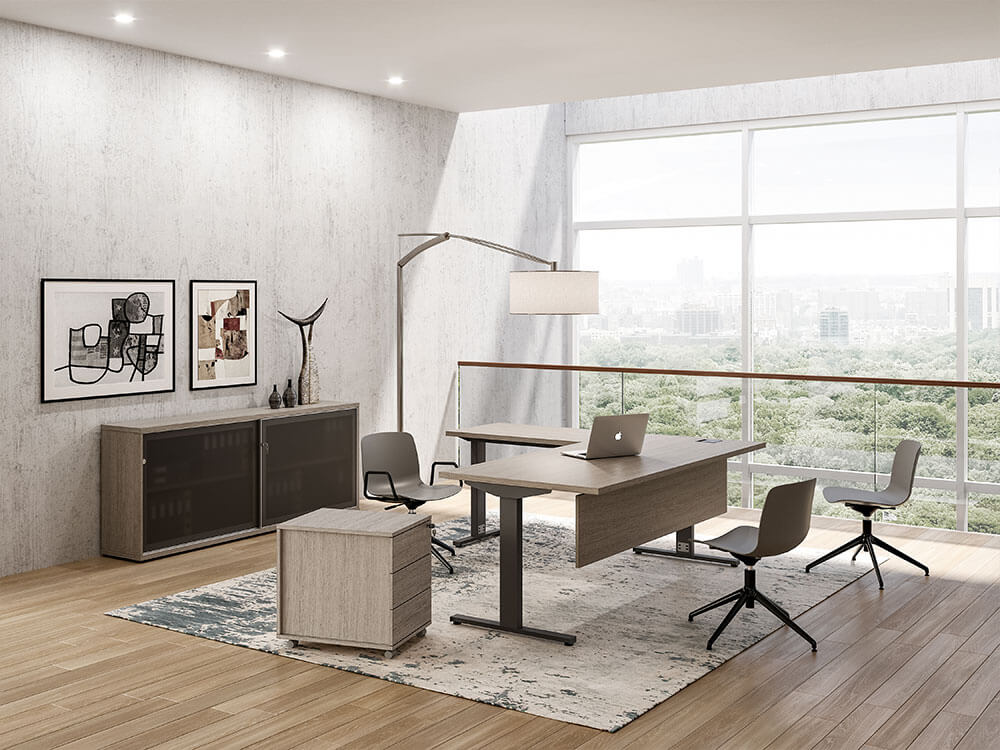 Consider creating an informal break-out space where employees can de-stress. Make the space as fun and creative as you can for a relaxing environment. The break-out area is not just a place where employees can lighten up but is also a potential space that can drive their creativity. You may find some of the most comfortable and stylish desk and seating options at Auraa Design for your break-out area, meeting booths and pods.
3. Choose an open floor plan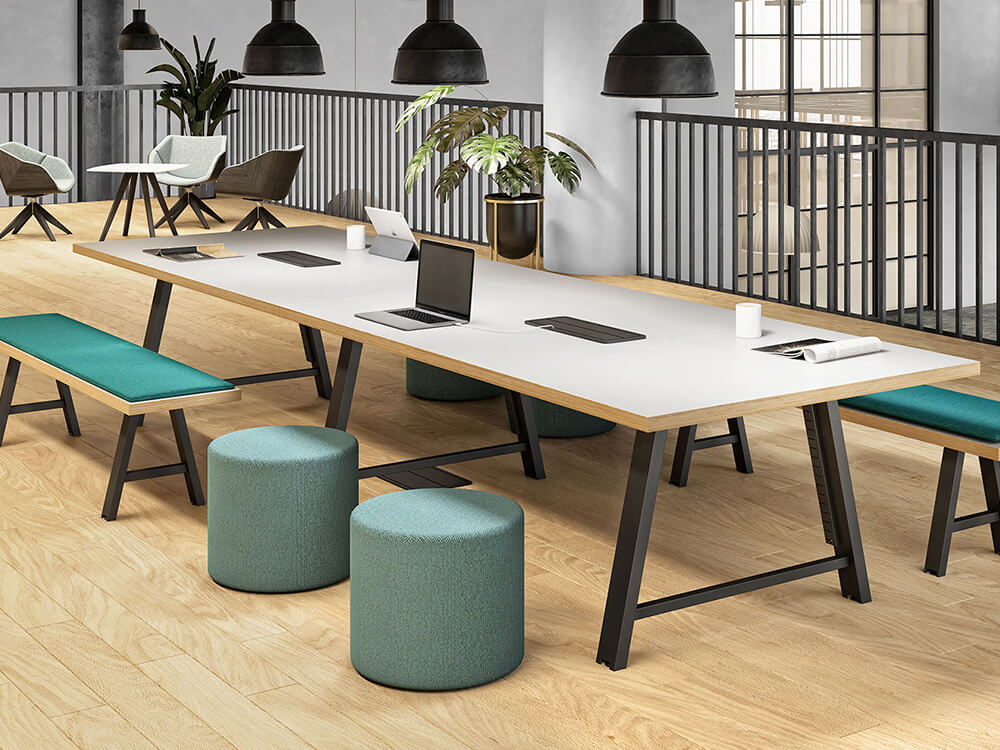 No matter what the size of your office is, an open office layout can help you make the most of the space you have. It can make your office seem sizable and also allow your employees to collaborate more efficiently. So, break down the individual cubicles and solid office partitions, add stylish desks and collaborative furniture to your space and rearrange them to promote a healthy coworker relationship.
4. Bring in the greenery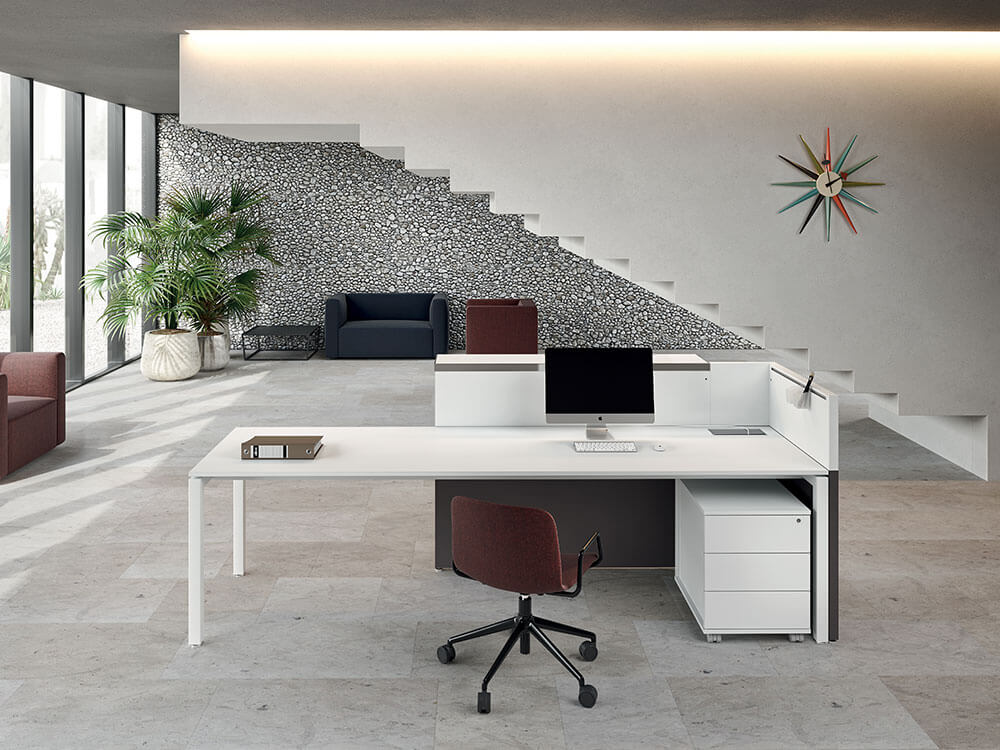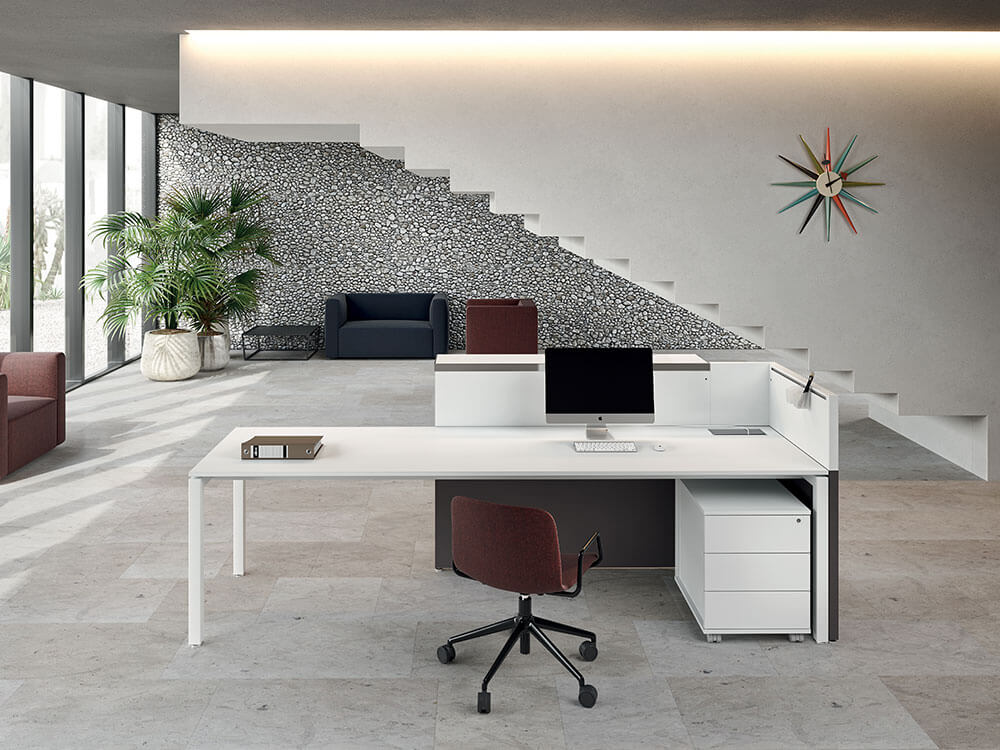 The slightest peek of the great outdoors can boost creativity. So, add a few floor and table plants that do not require a lot of care to help your team connect with nature. You can also hang up a few non-flowering plants throughout the office. The plants will help improve the mood and even purify the air.
5. Add some trendy and good quality furniture
What is not to love about some crazy couches and stylish desks? Transform your traditional office into a futuristic workspace with some practical yet stylish desks and chairs. Or hang up contemporary art pieces and create an accent wall. You can add mirrors to make your workspace look more refined or add a funky table centrepiece for your office. But remember to invest in good quality furniture that will last a while.
6. Brand your space
Personalise your office with modern interior designs to help you display the spirit of your company. Branding is crucial when it comes to business. So, do not shy away from having a blown up logo printed onto a wall. Display your company's mission statement in the common area, or dedicate a wall for company photos and mottos. You can also integrate your brand colours in your design scheme to make your employees feel a stronger connection to the business.
7. Make space for tech
The quickest way to modernise your office is to bring out the technology upgrades. Mount large television or video screens to make an impact. Installing a laptop or tablet charging dock can also influence the nature of the workspace.
8. Let your employees personalise their space
Boosting employee creativity and motivation is crucial for a successful business. So, besides giving them a comfortable and stylish open plan office desk, let your employees add personal quirks to their work areas: like a colourful planner, their treasured house plant, or a mural of their favourite artist.
9. Keep it organised
You may come up with a million ideas about what to include in your office. But, keep in mind the amount of space you have. If it is small, keeping things minimal might be a better option. Also, ensure your workplace is always clean. You can consider some storage and shelving solutions at Auraa Design to organise any mess. They can also act as a display unit for any significant items.
10. Include glass partitions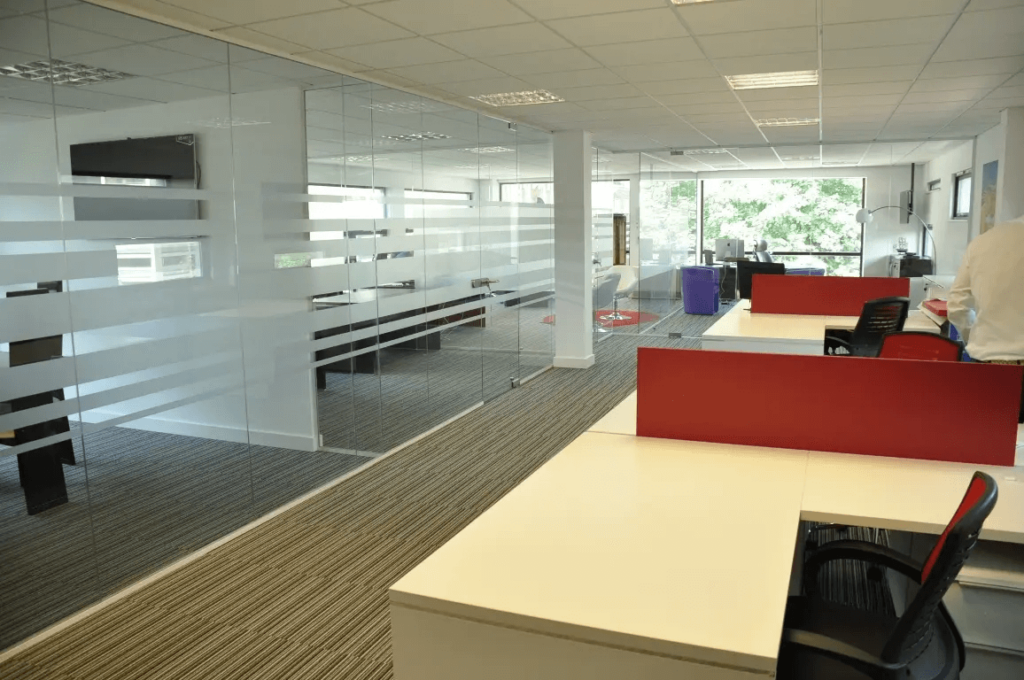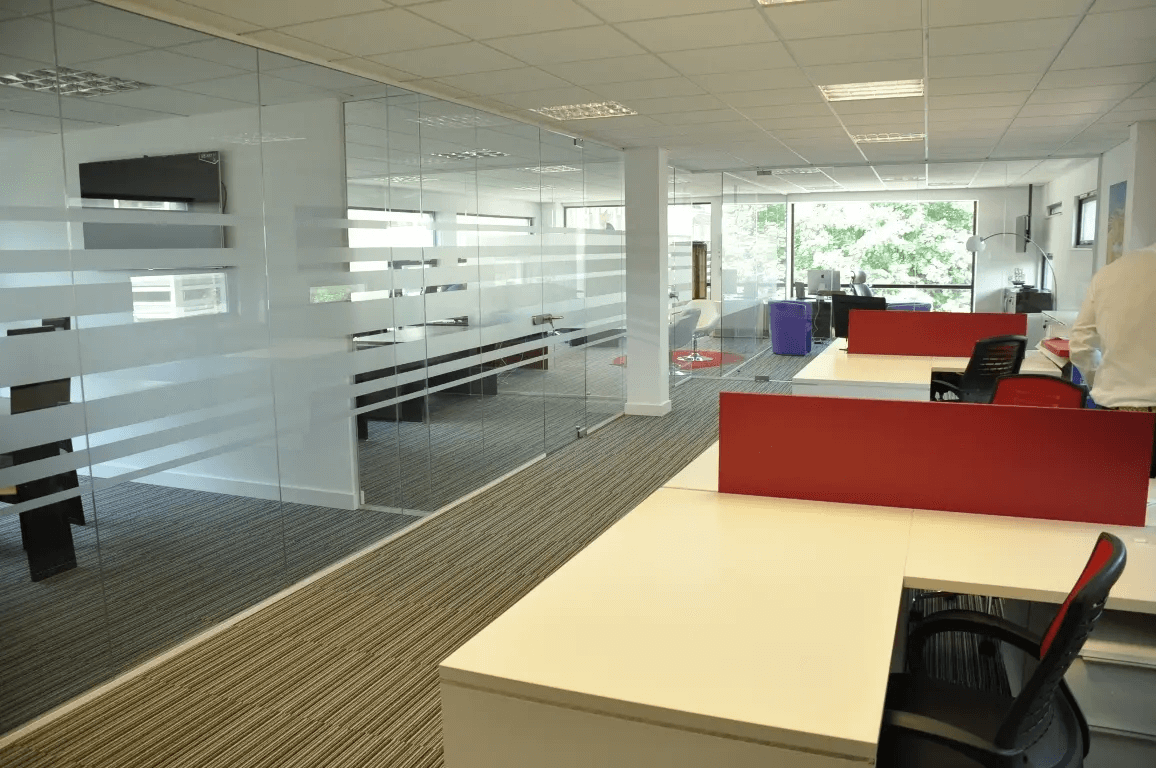 You cannot have a modern and stylish office without some glass and steel. You can use glass partitions to keep an element of privacy without compromising on creating a more open workspace and maximising the use of natural light. The best part about these partitions is that they do not upset your modern office design and instead add to it. Remember that an office reflects the company's image and can impact employee productivity and leave an impression on visitors. So, get a little creative and have fun with your next redesigning project. With the help of Auraa design, we provide all types of furniture for modern offices that are stylish and durable.