Emma – Low Back Armchair with Chrome Metal Frame
SKU Code: CKMI01
What better option, than a chair that can be tailed to your specific aesthetic needs like this leather and fabric armchair? Emma's modern and contemporary Chrome frame is sculpted against the chair's high armrests and back down, creating distinctive front ring legs. The block cushion style of the single seater armchair, stands out against its competitors by the highly padded seat that seems endless. Soft seating armchairs make the perfect reception area or breakroom additions.
£1,552.50 Exc. VAT £1,863.00 Inc. VAT
£

1,863.00 Inc. VAT
£

1,552.50 Exc. VAT
Ideal Seating
Leather and fabric armchair.
Block cushion style.
Highly padded seat.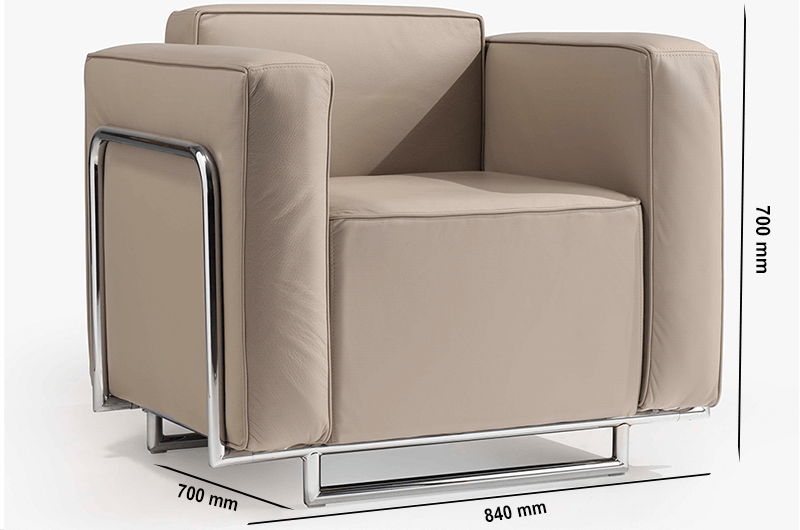 More Information
Details
Colour or Finish: Black, Blue, Brown, Green, Orange, Red, Turquise. Other colours or finishes are available. If you are looking Other Finish for chair, please call office on 020 3915 8008 or email: info@auraadesign.co.uk.
Structure Color: Chrome, Charcoal, White
Cushions: Cushion seat with chipboard core materials with elastic bands, polyurethane resin density 40 kg / m3. Back cushions and armrests in polyurethane resin density 30 kg / m3.
Seat Material: Fabric, Leather or Imitation Leather.
Structure Material: Metal.
Dimensions
Seat Height: 420 mm.
Height: 700  mm.
Width: 840 mm.
Depth: 700 mm.