You already know, adding a modern chair and desk adds a contemporary vibe to your office space. But do you know, improved office furniture moreover helps in increasing the productivity of your employees? Because a person spends 7 to 8 hours a day in the office on chairs and desks, having comfortable modern office furniture becomes a necessity. For this, you need to know what furniture essentials you need in your office. 
That is why we at Auraa Design provide you with the range of office furniture that keeps you relaxed while adding a perfect style and essence that your office needs. If you find it challenging to make the right decision from our provided range of furniture, we also help you design your office space with our space planning and 3D views.
Deciding what essentials you should add in your office can be quite tricky, especially when you do not understand the features and importance of the particular furniture. Here's the nitty-gritty of the furniture you should know about to add in your office space and make it modern and relaxed both for your employees.
Different Furniture Essentials in Office
From desks to chairs and ergonomic seating to cabinets, you need everything in your office space. But do you think opting for any kind of chair or desk will serve the purpose of the right furniture in your office? The short answer is no. Let's understand what are the different types of essentials and where you exactly need them in your office?
Desk
Chair
Seating
Cabinet
They are a smart working choice for small and larger work
They come with or without cabinet or storage option
They provide back support
They can be adjusted according to your comfort need
They are perfect for single person
They provide back support
Multiple people can be seated at the same time
They come in different option from one seater to multiple seater
They provide storage solution for important documents and paperwork
Different cabinet options are available like shelves, lockers, drawers
Desk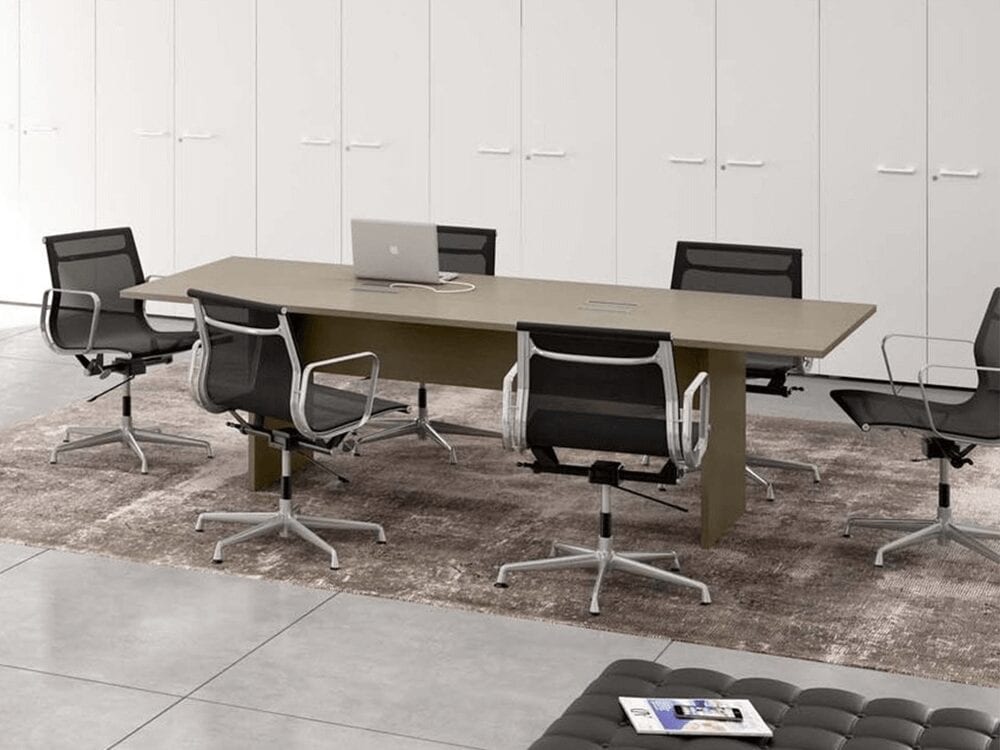 One of the essential things to look at while choosing an office desk is your requirement. When you focus on the kind of need, think two ways: do you want a desk for scattered work or a desk for smaller work which includes just you and a computer? Once you are sorted with your question, and you find the right answer, you can decide to buy a suitable desk for your office.
From executive desks to operational desks and boardroom desks to reception desks — you can choose from a comprehensive range of office desks available at Aura Design.
Executive Desks
Executive desks occupy the larger part of the office space as they are big desks with double pedestal designs most of the time. They come with or without drawer boxes for housing necessary paperwork and documents.
Executive desks make for single work desks and mostly cannot be shared among multiple employees. This desk is perfect for you if you want it for a single room or even if you're going to set up a home office. If you wish to add a concrete, wooden finish or a flair of luxury with glass desks, you can pick the right executive desks that suit your needs.
Operational Desks
An operational desk is the crucial desk need in your office is to keep your team working together. Whether you want modern furniture or an open working office, an operational desk is excellent, which comes with a compartment to separate the working for people working together. It is one of the best office desks that you need to have for your employees.
Boardroom Desk
Boardroom desk is a one-time investment that you need to choose for board meetings. Whether it is a meeting of 8 people or 40 people, the boardroom desk fits for everyone single-handedly. They come with elongated desks that provide the space and need whether you want a sleek desk with a finish of glass or a desk that gives the rigid wooden look.
Reception Desk
Reception is the first department that anyone comes across in an office. And, having an attractive and sturdy reception desk becomes extremely important as it centres the basic needs of the office. Reception desks come in different styles like traditional, contemporary, round and curved. You can choose any of the styles that enhance your space according to what you need.
Chair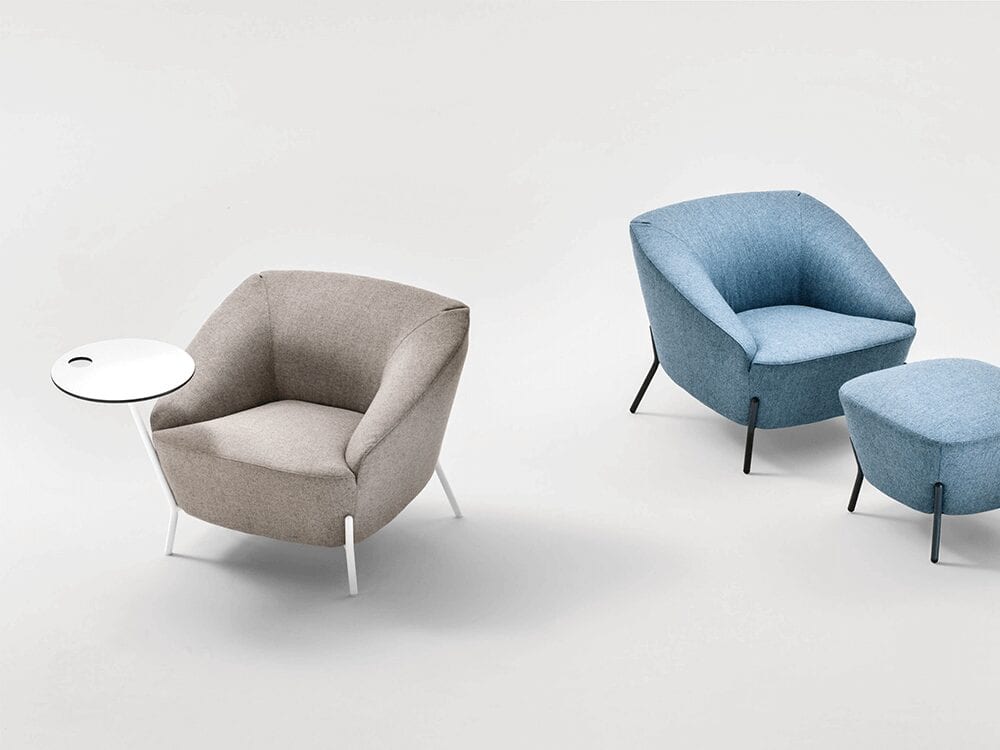 Working longer hours every day on the desk becomes strenuous. That is why keeping yourself comfortable in a desk chair becomes equally important. It would help if you chose a chair that is ergonomic and comfortable for you according to your posture for longer working time.
Operational Chair
It is crucial to understand that your employees spend the maximum time sitting and working on their desks, For this, a comfortable operational chair is required which does not put a strain on their body and hamper the working. Operational chairs come in a wide range from colourful chairs to the ones that come with adjustable styles, wheels and arms.
Executive Armchair
Executive armchairs are one of the best chairs that you can have in your office space which are a real example of relaxation and productivity. These armchairs provide a space for arms to rest. Head and backrests, which make it convenient to support your neck and back while working for longer hours. These chairs also come with the adjustability feature, which can be adjusted according to your convenience.
These chairs can also be used at receptions at reception chairs because of the utmost relaxation that it provides with its features like headrests and arm seating adjustability.
Breakout and Soft Seating
Breakout and Soft Seating provides a comfortable furniture option, armchairs and sofa seating. This seating furniture can be a splendid choice for reception areas, meeting and office cafeteria. This furniture varies from fabric to leather, whatever that suits your office decor.
Storage Cabinet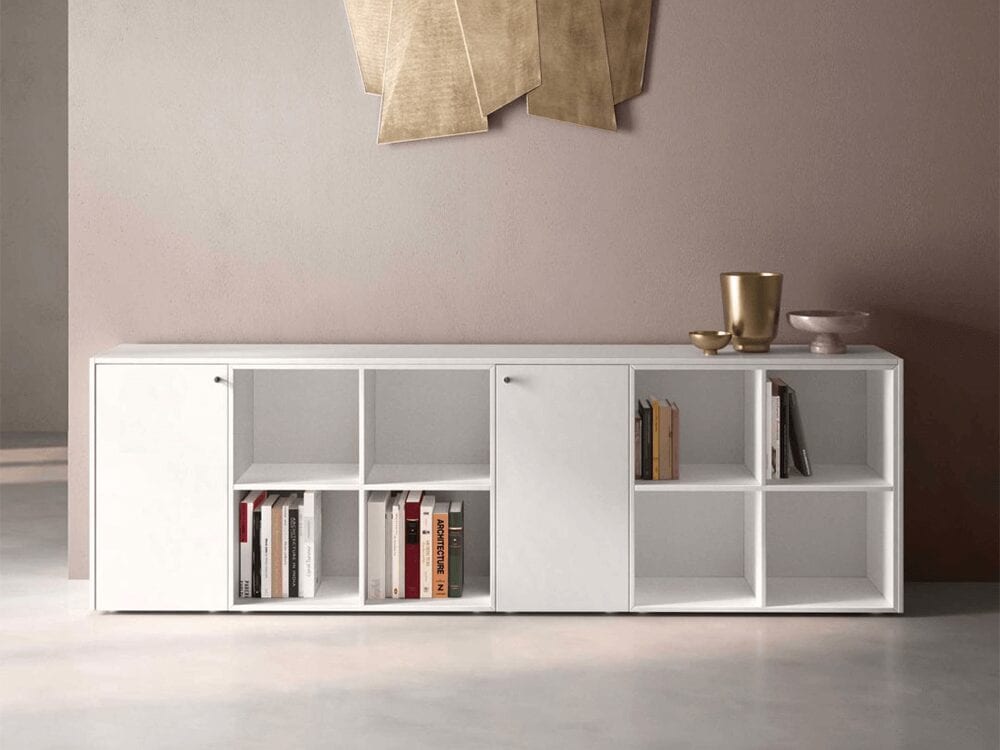 Having a storage solution in your office is your utmost need, especially for organising and storing all the essential documents and paperwork. These cabinets come with box drawers, shelves and lockers. You can choose from an entire range according to your office style and need.
Office desks and chairs both make essential furniture in your office but choosing the right furniture for the right space is necessary.
At Auraa Design, we bring you the premium quality of the furniture from contemporary to classic furniture that makes sure to keep you comfortable all day long with the premium quality of material and features.