Mars – Three-Seater Leather Sofa
SKU Code: ONMI03
For when clients and visitors come and go, a three-seater office sofa will supply enough space for all. Our fashionable and stylish modern Mars is cushioned to make an office waiting room chair, while the Chrome frame is eye-catching, traveling into the core of the leather and fabric sofa design. Customise from our wide upholstery range on this breathable split backrest sofa.
£1,528.38 Exc. VAT £1,834.06 Inc. VAT
£

1,834.06 Inc. VAT
£

1,528.38 Exc. VAT
Ideal Seating
Leather and Fabric Sofa.
Breathable split backrest Sofa.
Fashionable and stylish cushioned.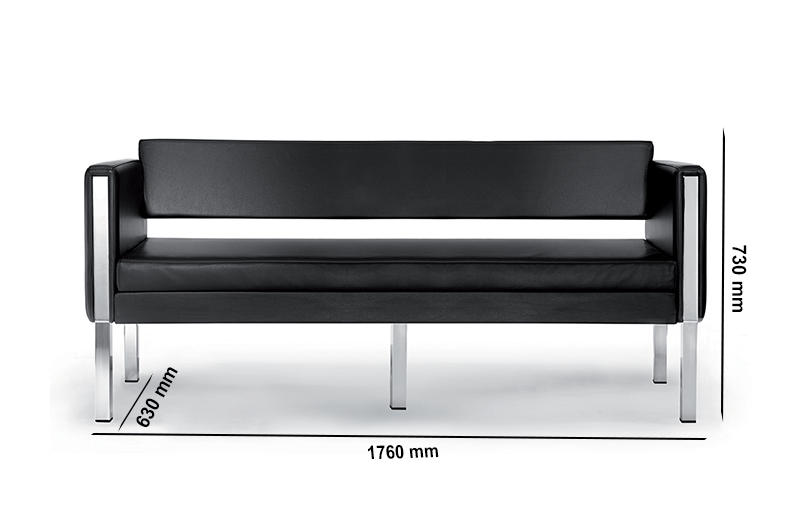 More Information
Details
Internal Structure: Multiply wood and honeycomb. Supporting structure: black painted metal beams, chromed metal profiles.
Base: Chromed metal square legs with plastic caps.
Seat: Density 30 kg / mc thickness 45 mm.
Backrest: Density 25 kg / m3 thickness 55 mm.
Armrests: Density kg / m3 thickness 15 mm.
Seat Material: Fabric, Leather.
Structure Material: Metal.
Backrest Material: Fabric, Leather.
Base or Leg Finish: Chrome and Charcoal
Colour or Finish: Black, Blue, Brown, Green, Orange, Red, Turquise. Other colours or finishes are available. If you are looking Other Finish for chair, please call office on 020 3915 8008 or email: info@auraadesign.co.uk.
Dimensions
Seat Height: 440 mm.
Height: 730 mm.
Width: 1760 mm.
Depth: 630 mm.