Jones – High Back Two-Seater Sofa in Multicolour
SKU Code: NEMI03
Take a lucky dip from our wide range of leather and fabric sofa options to compliment your choice of rectangle or round legs. This high armrest chair gives ultimate sophistication in any environment, especially in a waiting room, reception area or even your executive office, with the padded cushioned seat. Wide enough to fit two clients, combine this with our other Jones pieces for a matching zone.
Ideal Seating
Satinated Aluminium Round Feet.
Chromed Metal Rectangular Feet.
Padded cushioned.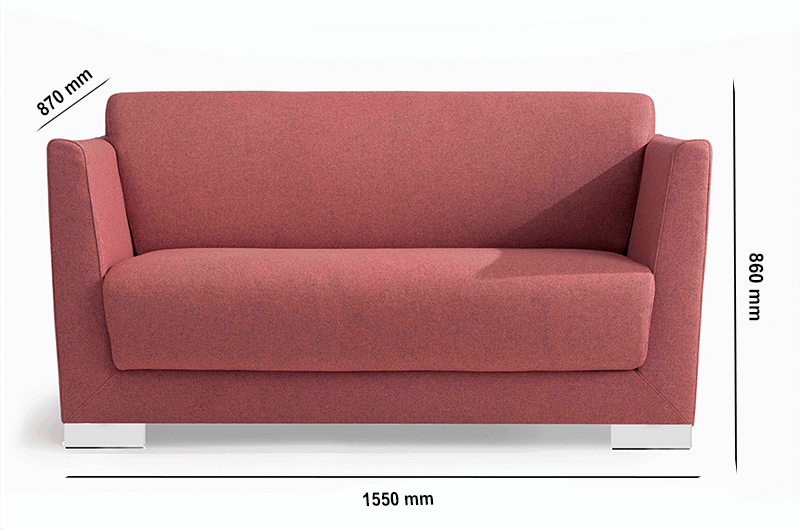 More Information
Details
Colour or Finish: Black, Blue, Brown, Green, Orange, Red, Turquise. Other colours or finishes are available. If you are looking Other Finish for chair, please call office on 020 3915 8008 or email: info@auraadesign.co.uk.
Structure and Leg Finish: Aluminum in Round Feet and Chromed Metal in Rectangular Feet.
Structure: Made of plywood covered with polyurethane resin density 40 Kg / m3. Sschienale in polyurethane resin in the form of density memory 25 Kg / m3. Seat in polyurethane resin in the form of density memory 35 kg / m3.
Armrest Type: High.
Seat Material: Fabric, Leather or Imitation Leather.
Structure Material: Metal
Dimensions
Seat Height: 460 mm.
Height: 860 mm.
Width: 1550 mm.
Depth: 870 mm.