Emma – Low Back Two-Seater Sofa with Chrome Metal Frame
SKU Code: CKMI02
This classic sofa design has been modernised to give us our Emma collection. The durable frame is sculpted up against the chair's high armrests and back down, creating two distinctive front ring legs. The block cushion style of the two-seater armchair stands out against its competitors by the highly padded seat that seems endless. Tailored in leather and fabric options, soft seating armchairs and sofas make the perfect reception area or breakroom additions.
£1,546.56 Exc. VAT £1,855.87 Inc. VAT
£

1,546.56 Exc. VAT
£

1,855.87 Inc. VAT
Ideal Seating
Durable frame.
High armrests.
Distinctive front ring legs.
Block cushion style.
Highly padded seat.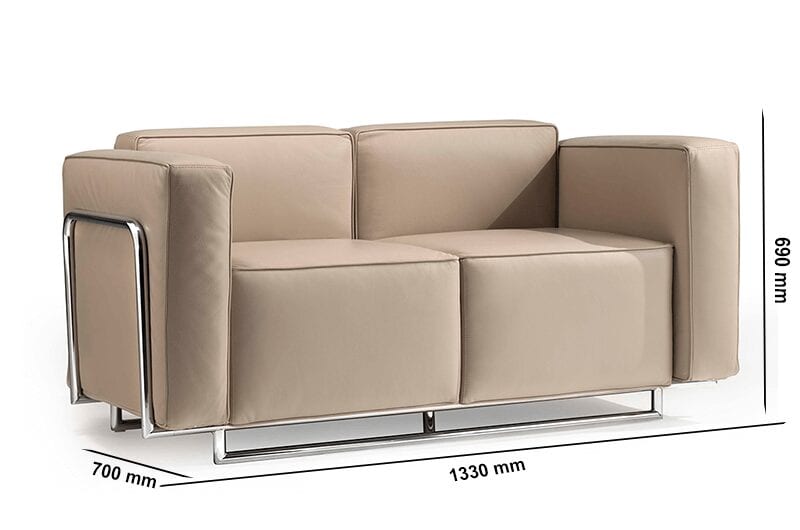 More Information
Details
Colour or Finish: Black, Blue, Brown, Green, Orange, Red, Turquise
External Structure: Chromed metal pipe.
Cushions: Cushion seat with chipboard core materials with elastic bands, polyurethane resin density 40 kg / m3. Back cushions and armrests in polyurethane resin density 30 kg / m3.
Seat Material: Fabric, Leather or Imitation Leather.
Structure Color: Chrome.
Structure Material: Metal.
Dimensions
Seat Height: 420 mm.
Height: 690 mm.
Width: 1330 mm.
Depth: 700 mm.