Carmella – Medium Back Single Seater Armchair with Chrome Frame
SKU Code: DIMI03
This modern and chic single seater sofa chair is both stylish and functional with the thick padded cushions and the curved armrests. The craftsmanship that goes into the making of Carmella stands out, especially with the buttoned seat and large Chrome legs that follow up into the arms to support the split backrest. Add a personal twist by choosing a leather office sofa shade to match your interior for the perfect waiting area sofa.
Ideal Seating
Padded cushions
Curved armrests
Modern and chic single seater sofa chair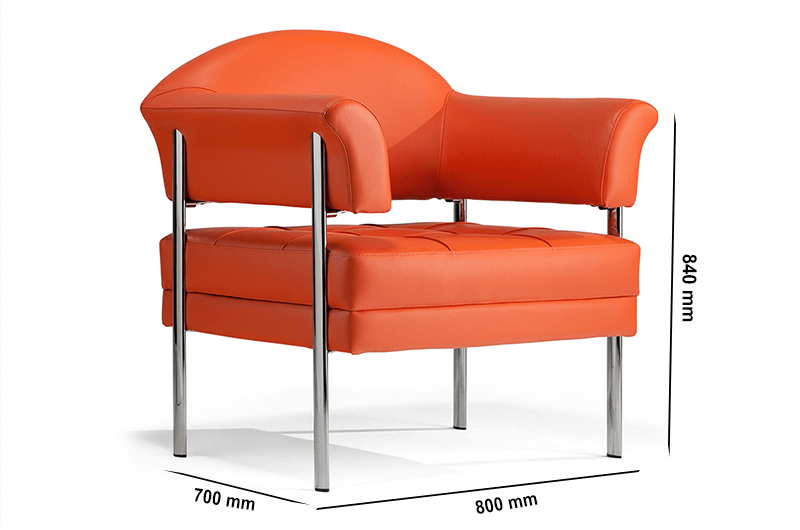 More Information
Details
Colour or Finish: Black, Blue, Brown, Green, Orange, Red, Turquise. Other colours or finishes are available. If you are looking Other Finish for chair, please call office on 020 3915 8008 or email: info@auraadesign.co.uk.
Structure: Made of plywood and particleboard with seat cushion and backrest in polyurethane resin density 30 kg / m3, thickness 80 mm.
legs: Made of chrome elliptical tube.
Seat Cushion and Backrest: Polyurethane resin.
Seat Material: Fabric, Leather.
Backrest Material: Fabric, Leather.
Structure Color: Chrome.
Structure Material: Wood.
Dimensions
Width: 800 mm.
Depth: 700 mm.
Height: 840 mm.