Nowadays, the office is not stacked with files and documents but is well-ordered. The modern office has open spaces and stylish furniture, which brings new ideas and enthusiasm. Office furniture sets play a huge role in ensuring that workspace is efficient and comfortable for employees to work in. Therefore, these are one of the first things to be replaced and considered when revamping an office.
How to choose the best office furniture set?
While buying full furniture for offices, there can be several obstacles. So, here are ways you can choose the perfect decor for your office.
Budget-friendly furniture
Choosing the best for your workplace can cost you bucks. You need to ensure that the furniture you choose fits both in terms of comfort and budget. Auraa Designs have beautiful special budget-friendly collections that can help you furnish your office at minimum expense. 
Furniture reflecting your personality
An office is not made of four walls; it is made of your passion and dedication. Odd looking and worn-out furniture doesn't reflect well on you and your business. Choose furniture design that perfectly resembles your personality and that of the business. 
Comfortable chairs
While choosing office chairs, you need to stress on comfort. Perfect office chair increases your employee's attention span and results in better productivity. Do remember that spending a little extra on employee comfort can never harm you because employees make a company. At Auraa Design, you get an exquisite range of office chairs that are very comfortable.
Space available 
Space is a necessary factor while looking for furniture. Particularly if you are looking for home office furniture sets, it is vital to look at the space available. Size of office furniture should be in line with space available. If the furniture is too big or too small, it will look out of place. You can send pictures of your office, and Auraa Design will tell you what kind of furniture will suit you best.
Plan the purchase:
Planning is essential to execute a purchase. You should carefully browse through options to choose the best available options. Buying something instantly without carefully going through options is an amateur take.
Types of office furniture
You require a desk for different areas in your office like the Reception Desk, Director's Office Desk, Open Plan Operator's Office Desk and Meeting Room/Boardroom table. These desks come in different types and styles. Few of which are-
1. Writing desks are perfect for placing along a wall or in the centre of a home office. These have minimal storage and are appropriate for laptops.
2. Executive desks are large-sized desks with plenty of space and drawers to keep files, books, printers, and desktops. If you have enough space, these desks are best, as you can keep things within your reach.
3. Floating desks are perfect if you want space below the table. A floating desk establishes a sense of open space. It is best if you have a large window with great views at home.

4. Dual-sided desks are best for having a conference. This table provides all the space that you need.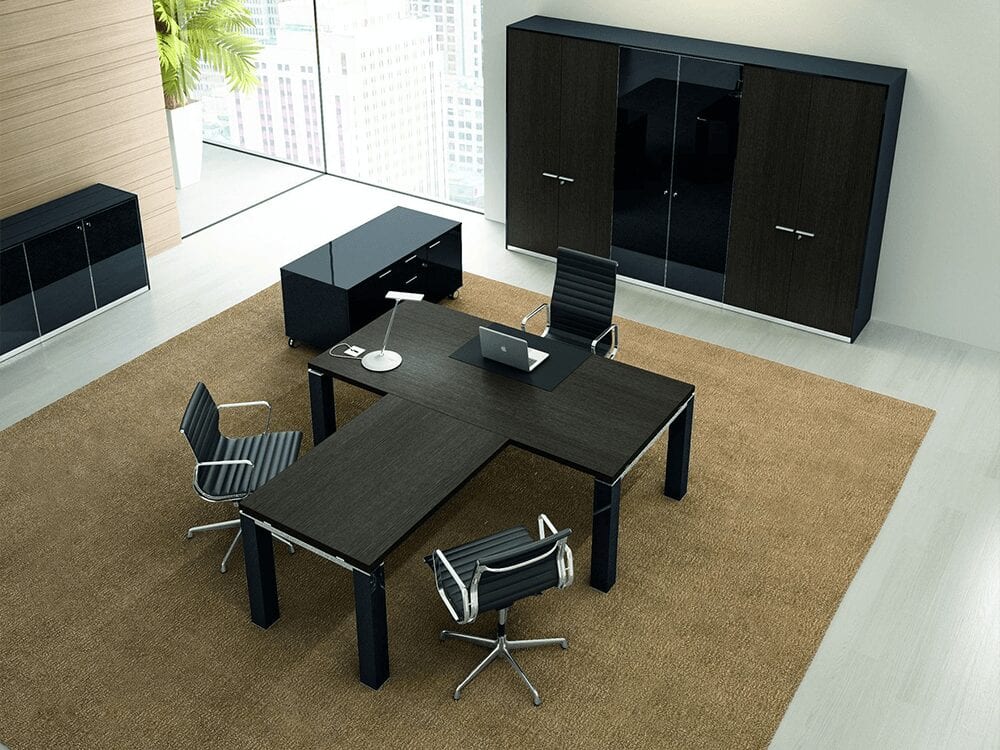 There has been an increase in the number of hours an employee spends in front of the computer. So choosing the right chair to ensure the comfort of the employee has become necessary.
Here are the different types of office chairs available.
1. Ergonomic chairs come with adjustable height and height and back-support. These chairs provide utmost comfort.
2. Professional chairs have high padded backs to provide the right posture and comfort. Features like swivel base make it the best option for the office.
3. Conference chairs are comparatively cheaper, and as the name suggests, it is suitable for conference rooms.
4. Guest chairs are made for the seating in the waiting area. These are less comfortable because they lack the necessary support.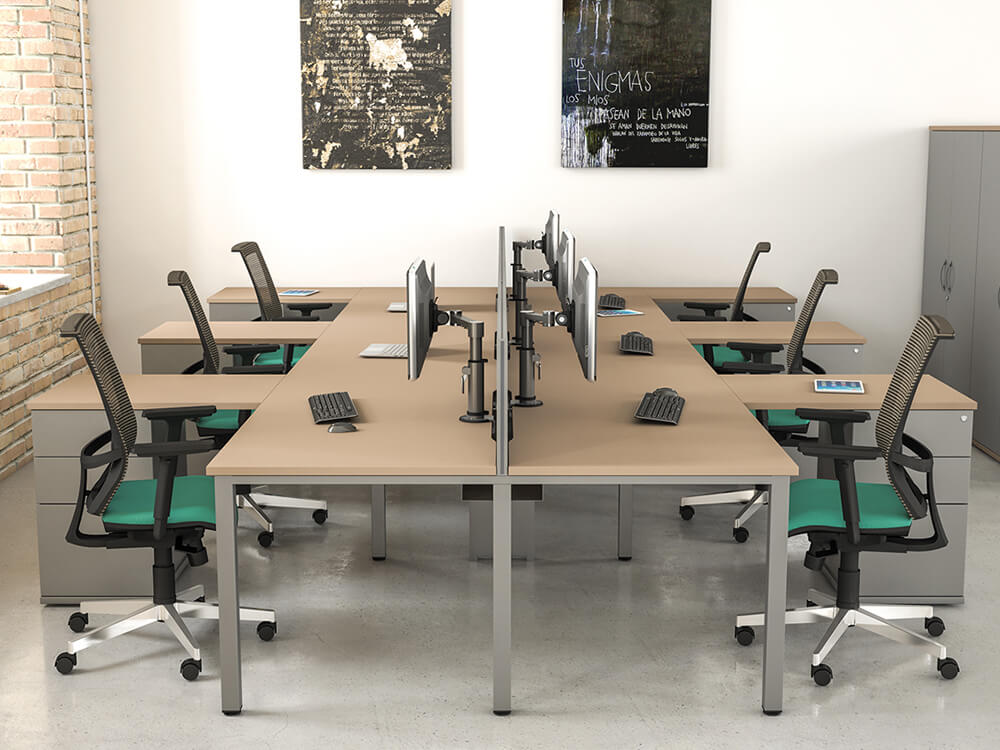 File storage 
File storage areas are vital for any office for storing all the necessary documents. File storage units come in different styles and sizes to make your office look comfortable. Some of these are-

1. Lateral file cabinets
2. Open file cabinets
3. Mobile file cabinets
4. Rotary cabinets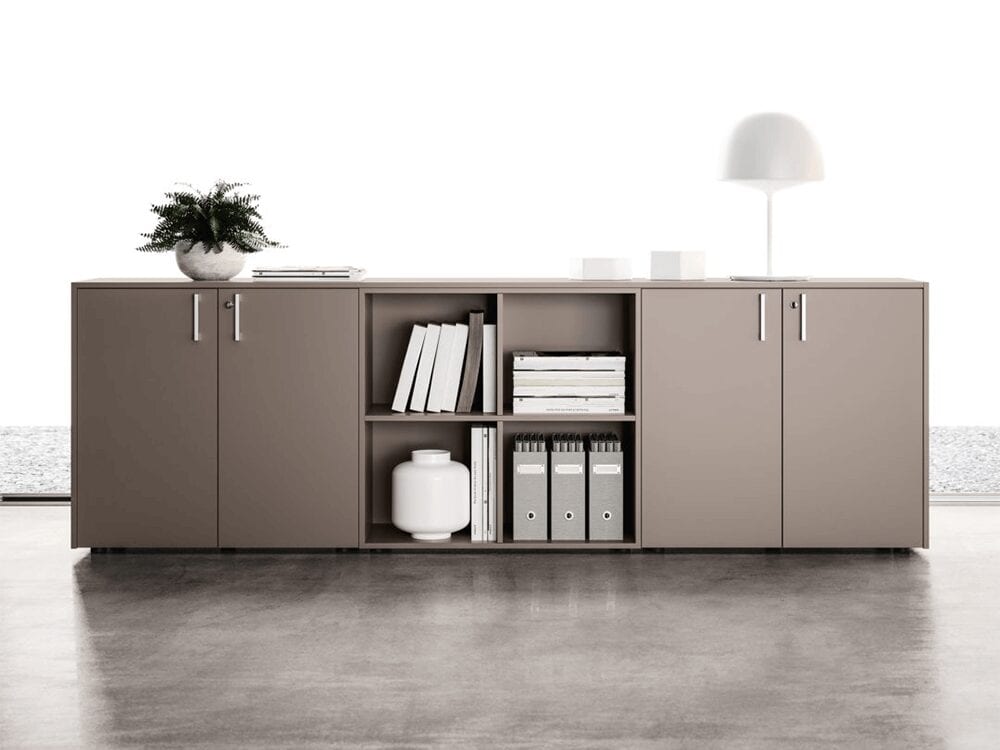 How to set your office furniture?
With the new full office furnitureset, you can make your office look bright and spacious by arranging them properly. A great way to achieve that is by placing furniture in a way that gives access to employees and visitors. You also need to balance the visuals in your space by decorating the place where there is no furniture.
Office furniture sets can make a great impact on making the workplace inviting to both employees and potential clients. By keeping your budget and office space in mind, you can get suitable furniture from Auraa Design that enhances your company's image. Office chairs, tables, and file storage solutions, all these need to be in accordance with your brand image. With this sorted, you will have an office that impresses everyone at first sight.