Gone are the days of old-looking office spaces filled with dark wooden desks, chairs and cabinets with intricate carved designs dating from a century none of us have living memory of. Offices these days are clean, neat and tidy spaces with an air of professionalism and sophistication.
Well-lit spaces are the order of business thanks to large windows that let light pour in and fill the room, as well as modern styles of furniture like designer chairs and desks such as those from Auraa Design. Let's take a look at some simple changes you can make to breathe new life into your office spaces, and impress not only current employees but potential clients too.
Make the space more open
An open space is more inviting to all who come into your office, bringing a sense of freedom and modernity. This could mean removing stud walls that were previously in place to partition sections of the building, but you could also take a more innovative approach and include glass walls and room dividers to give the appearance of more space.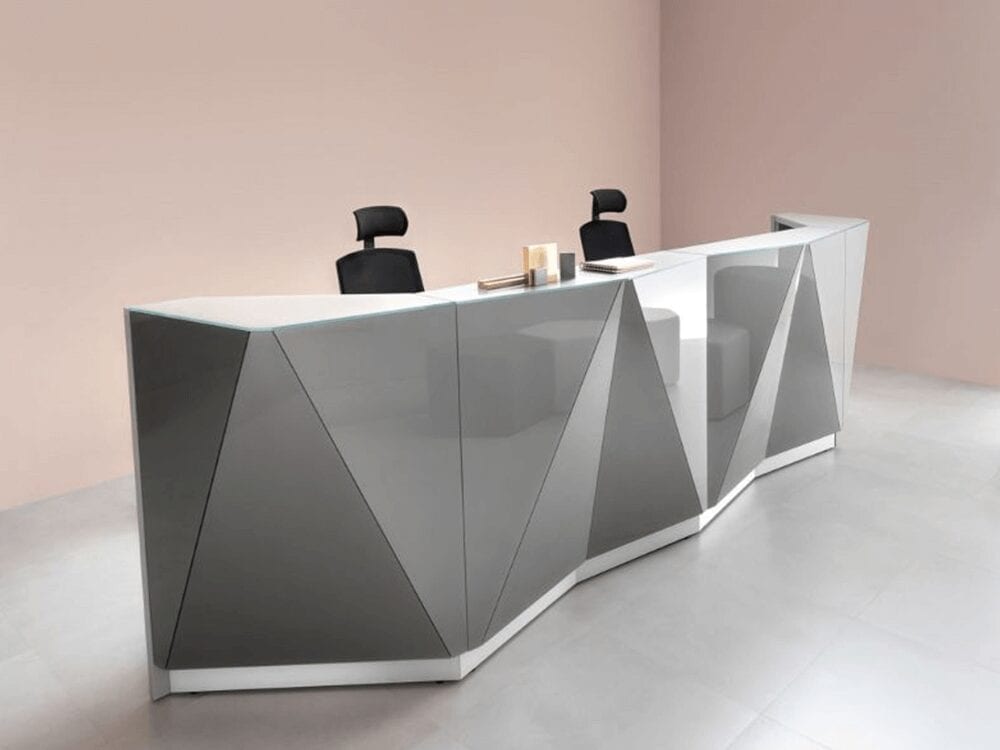 An open space makes people feel better about working in an office, as opposed to being couped up in a small room all day long. As soon as you open up the space, you will also notice that greater collaboration can occur between staff, improving productivity. The opening and welcoming nature of your reception area can be enhanced with a contemporary designer reception desk that immediately imprints a positive impression on clients and visitors entering the building.
Decorate with modern art
Give your office a homely feel yet provide an edge with the latest art trends that complement modern and aesthetically pleasing designer furniture such as chairs and desks, as well as filing cabinets. These two aspects will work together to show you are a professional organization in touch with modern times and practices.
Art can even boost the productivity of your employees as it enriches their working experience, and has been found to increase efficiency by 15%. This is something that Deutsche Bank has noticed after purchasing over 60,000 modern works of art for its 900 offices around the world.
Accessorise correctly
Too many offices can come across as stuffy and dated if there are lots of nick-nacks around the place which would be better suited in a museum. Accessories don't have to be intricate and showy, but they can be as simple as lampshades that have neutral colours and a sleek, modern design to draw attention.
Large and leafy plants in pots placed in strategic locations throughout the office make for an attractive space and brings people back in touch with nature in what is often a sterile, man-made work environment. Items which reflect your brand values are also a great idea, classic car models show power and strength, whereas animal and human figures can provide cultural inspiration.
Make your meeting room more welcoming
One of the central places in your building where you entertain new clients, discuss business deals and make new connections and network with potential leads – the meeting room is not somewhere to be neglected.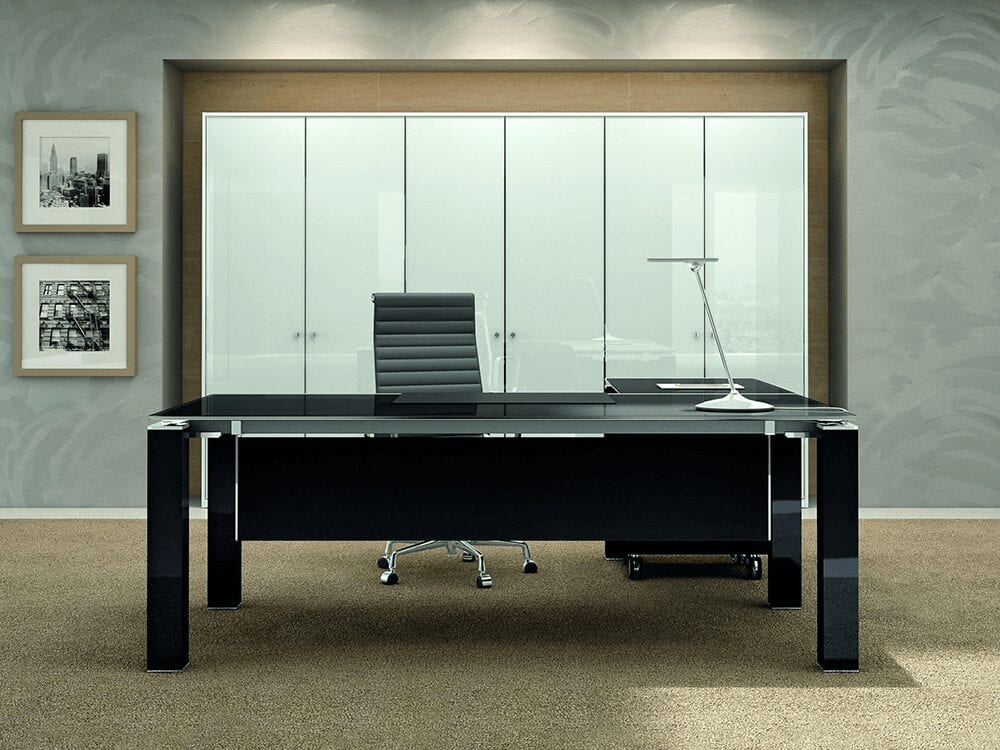 When a room like this is so important, why not go the extra mile and purchase some designer meeting room furniture from companies like Auraa Design. Not only can you select from a wide range of stylish tables, but they also have built-in functionality for wire storage to power devices, and table extenders for more participants. Show you care for client needs by giving them a comfortable space to do business in within your organisation.
Get organised
There's nothing more distracting than an office that has overflowing stacks of papers strewn over desks and on the floor, or old storage facilities for paperwork that are just about surviving daily stresses. Getting your office space organised is key to bringing it in line with modern practices and looks, and is also going to make the workplace flow more smoothly.
Why not choose designer executive desks for your main spaces so that workers have all the storage they could ever want? Multiple designs have drawers which are neatly concealed within the body of the furniture unit so that everything you need can be accessed immediately instead of unprofessionally routing through papers.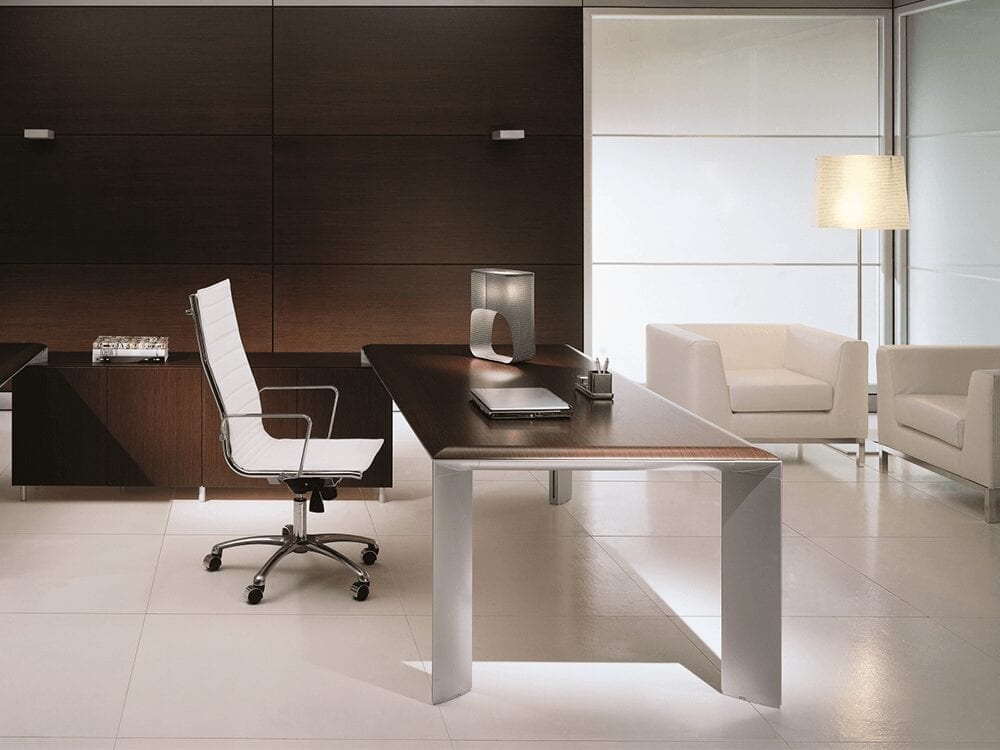 If you're looking to improve your office space and make it not only a place where employees look forward to coming into work every day, but also where your clients can feel a sense of calm and confidence, then you need to address the issues mentioned in this article.
Here at Auraa Design, we understand how important it is for your workplace to provide the right first impressions, so our range of modern office furniture has been created to achieve just that. Get in touch today and see how we can help you launch your office space into the age of simplicity and modernity.