They say first impressions are really important for a reason and the first thing that leaves an impression about your business is your reception area.. The reason behind this of course, is how your reception area is designed says volumes about the quality of your business. A beautifully designed reception area with well-placed furniture and of course, an elegant, sophisticated Reception Desk is one that will silently impress all visitors.
Whether you are a large enterprise that would like to display classy Glass Reception Desks or a small local business that would like to go for Small Reception Desks that do not take up much space and are functional – there are certain things that you need to think about when choosing the right reception desk for your office.
Few tips you should look into before purchasing reception desk
Looking at the Right Size:
One of the most basic rules when you look at picking out any kind of office furniture, is to make sure that the piece of furniture is proportionate in size. Let's say, if you are going for a Wooden Reception Desk you need to ensure it is proportionate to your reception area. To simplify this, if the space is large then go for a reception desk that is large in size as well, and if you're dealing with a small reception area then Small Reception Desks are the way to go. Generally, massive reception desks are created for hotel lobbies and sometimes you can go ahead and add that extra flair of an LED Light Reception Desk as well which will elevate the look of the area.
The point of doing this of course, is that you will be creating a sort of balance. Since your desk is the first thing that will be seen when the visitors come in, you need to make sure that there is enough space for people to walk on through, as well as having enough space for all the receptionists is to be able to work.
The Right Shape and Arrangement:
One of the first pieces of advice that we at Auraa Design give our customers is that you need to pay attention to the area, in which your reception desk is going to be placed. For example, if you're placing a reception desk in the middle of the room, then having a Round Reception Desks that gives you a 360° view of the room is a great idea. Since a reception desk plays host to your business' professional values, you need to choose the right shape and arrangement accordingly.
Taking into consideration how your reception desk is going to fit the entire ambience of your lobby, then choose the shape accordingly. For example, maybe for asymmetrical spaces, Curved Reception Desks would be the right choice. Whatever the shape and arrangement might be, taking into consideration your reception desk always needs to be facing the visitors when they walk in, you can go for a desk that suits you
Design Aesthetics:
As we discussed earlier, your Reception Desk plays an important role in making the initial encounter of your office warm and welcoming. With your receptionists greeting everyone with a courteous smile and answering all the questions or clarifying any of the queries, you want to make sure this warm environment translates into your reception desk design also. For example, if you are looking for a reception desk for a salon or spa, you would want to go with warm tones and maybe choose a Wooden Reception Desk or a Lacquer Reception Desk to add that warm touch to your decor. When you're going for a more sleek, minimalistic design, that sort of shows how your business is transparent and honest, you could even go for Glass Reception Desks.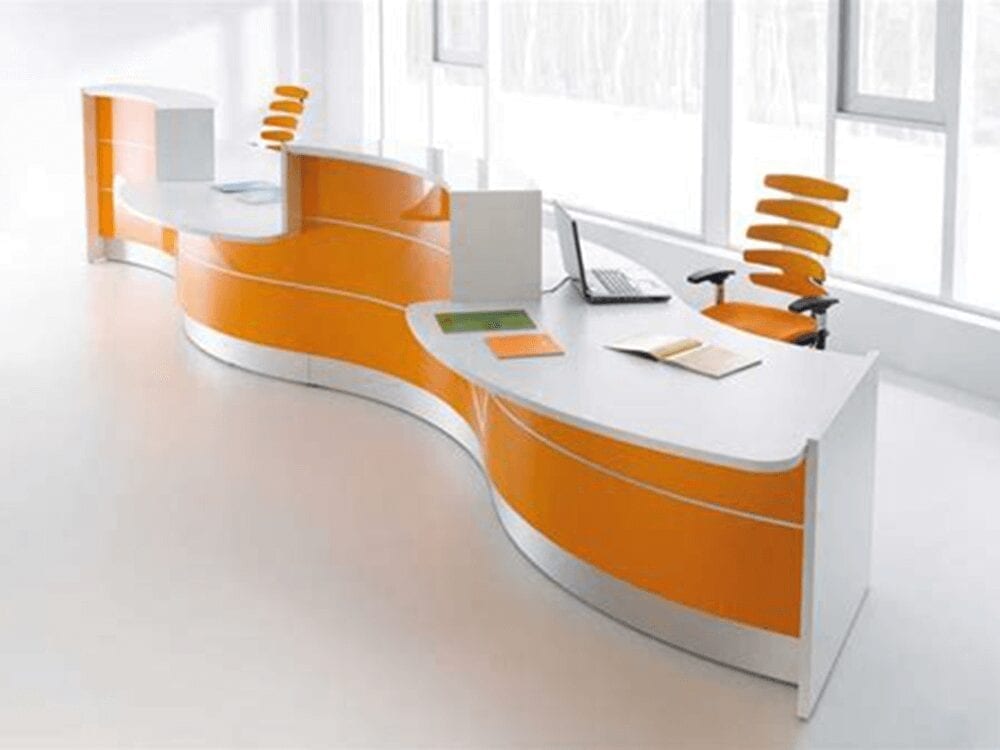 The bottom line here is that you have to take into consideration how the design of your desk is going to blend in with the overall decor of your office and also with the industry or nature of your business. For example, if you look at hotels or financial establishments, having a grand and opulent reception desk would be their decor choice.
Having talked about these top three tips that we have regarding your reception desk, you need to also look at the ergonomics of your desk to ensure that your receptionist is comfortable and hence productive.
The entire visual element of your space can be elevated when you have the right Reception Desk hence the choice becomes an important aspect. We at Auraa Design, present you with a wide variety of reception desk options that will uplift the entire look of your reception area. So get in touch with us and our team of experts, will guide you through the entire process and help you make the right choice.