Introduction
The beginning of 2020 saw the interior design for offices based on shared spaces; working flexibly and closely with colleagues. As 2020 progressed, these trends had to be redesigned, and as 2021 gets well underway, we see the impact of 2020 in the design of office spaces.
While many people are still working from home, some offices are adapting to new ways of working and slowly employees are starting to return to their offices. This means it is a great time to start thinking about updating to modern office furniture or having a complete refurbishment and installing that executive office desk that you've been dreaming of or the meeting room table that will bring the team back together.
Making Space for the Virtual Attendees
Whether you need an executive office desk or a meeting room table capable of comfortably housing a team of people, one of the main requirements is flexibility and the ability to work for employees who are present in real life and virtually. A hybrid model of having some employees in the office and some at home seems to be here to stay, and the facilities in your office would benefit from reflecting this. Meeting room table and chairs that can be repositioned and adapted to include a virtual audience will make this hybrid type of working much more accessible and comfortable for your teams.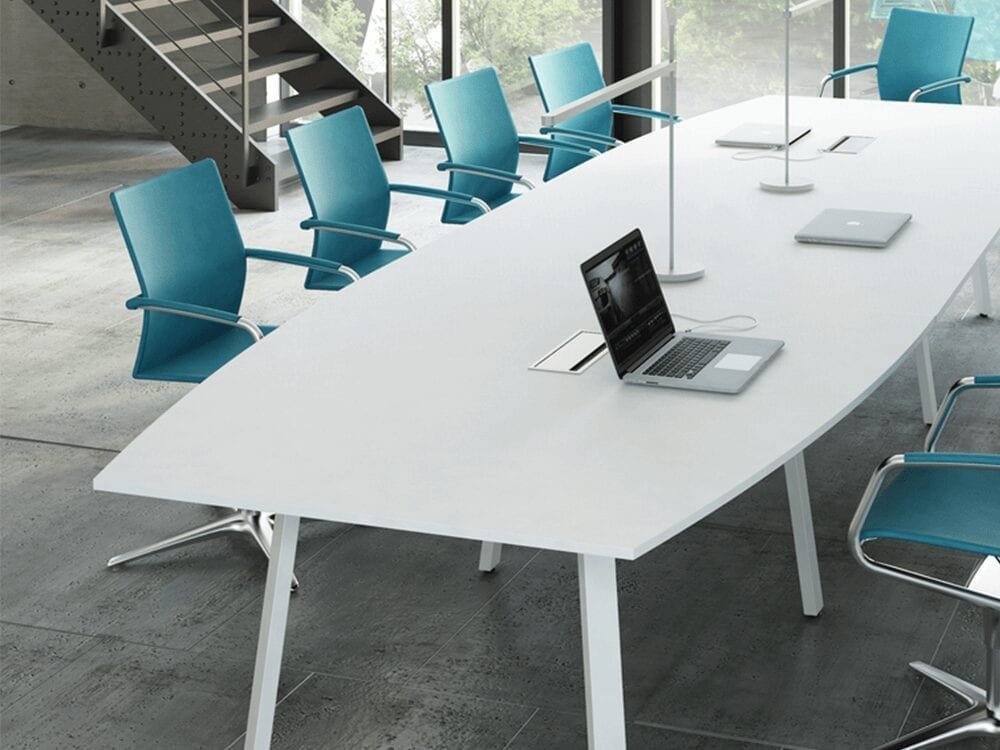 Clutter-Free, Clean and Simple
Office spaces in 2021 need to be capable of being cleaned thoroughly and regularly. This means that there should be plenty of clear space and storage available to ensure rooms don't become cluttered. Think about spaces such as the reception desk – UK businesses are clear on what needs to change, and a modern reception desk area will only help your team to return with confidence. There also needs to be provision for storing PPE, hand washing and for hand sanitisers to be readily available. Don't overlook these details when refurbishing, make them part of the design for your office.
Collaboration Needs to Look Different
The pandemic has caused people to have to work differently, and much of the guidance focuses on keeping people apart. However, it is proven that people usually work better if they work together and so collaboration needs to be reintroduced back into offices. The traditional office tables and chairs are being replaced with breakout areas or collaboration zones where people can work together without getting too close. Having write-on walls or moveable screens will allow for people to collaborate with ease while keeping safe as well as larger meeting room tables and chairs that allow people to get together safely.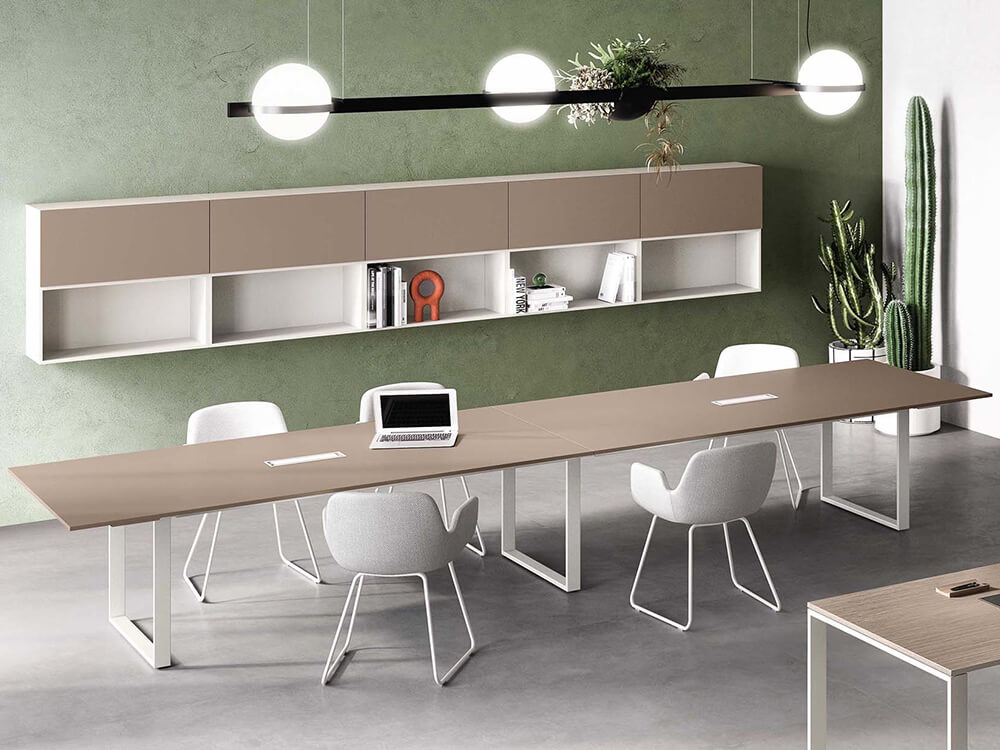 First Impressions Matter
A modern reception desk can make all the difference when it comes to the first impression of your business. Having an open plan, light, and airy space for visitors will create positive first impressions. Trends are seeing safety aspects such as see-through screens being incorporated into the design of the reception desk, so that is doesn't feel like an afterthought. When designing your reception desk, UK safety standards should be complied with.
Home Comforts
While many people can't wait to get back into the office, there are many upsides to working from home. One of these is the level of comfort that you have while completing your office tasks from the comfort of your own house. Many businesses are recognising this and adapting the office space to be less 'corporate' and more comfortable. This can be achieved with decoration as well as comfortable meeting room tables and chairs and different areas for people to work in.
Smart Technology in the Workplace
Technology is important in any office, and with the increase in technological advances over the last year, it has become necessary to ensure your office refurbishment is designed with tech in mind. However, this doesn't just focus on being able to communicate with people outside of the office, smart offices are becoming increasingly more popular. Offices that incorporate smart technology can utilise digital sensors to make the environment more comfortable, use space more effectively and keep staff safe with touchless doors and desk booking systems.
Employee Wellbeing and Empowerment
Happy, healthy staff are necessary for any business to thrive, and this should be a focal point within your office design. Employees are more aware of their own health and wellbeing, and business should respond positively to ideas on how to make improvements. 2021 seems to be the year that biophilia is increasing in popularity and the requirement for large airy spaces and lots of natural light will help to keep your employees well.
Flexible Working Spaces
Very few offices can accommodate all employees being in the office together while maintaining a 2m distance between people. This means businesses need to think about how to adapt their workspaces, and refurbishments are seeing a move away from the traditional model of individual desks and the creation of different types of meeting room tables and chairs for employees to use flexibly for different tasks. Bookable areas and modular modern office furniture make it easy to adapt to the needs of employees.
Getting the Colour Right
For 2021, there are two Pantone Colours of the Year, and they could not be more different. Ultimate grey is the first, and a bright yellow is the second. They complement each other really well and create a positive feeling within any workspace. If you don't fancy grey and yellow, the same principle can be applied to other combinations of having a predominantly inconspicuous colour paired with a bright, vibrant and uplifting streak. This adds a touch of fun to the office that everyone needs from time to time.
Sustainable Office Furniture
As businesses become more aware of their impact on the environment, there has been an increase in the demand for eco-friendly products, furniture made from sustainable materials and energy-saving solutions. With the increased demand, there is an increase in availability, and this gives you more options when it comes to designing your office space. Modern office furniture often comes with a sustainable label to look out for to keep your carbon footprint low.
Conclusion
Office refurbishment trends for 2021 have clear influences from the unprecedented events of 2020. Many of the design trends reflect the need to adapt to new ways of working, including how to allow employees to collaborate safely, feel comfortable within their office environment and utilise technology to make workspaces more effective. Whether you are looking for an executive office furniture, meeting room table or modern reception desk, there are many other design challenges that you need to face. The good news is that there are many more opportunities to do things a bit differently, too, so you can lead the way in creating a safer environment for everyone.