Furnishing is the next essential thing that one goes for before moving into a new space. In the current generation, aesthetics are the most sought after when it comes to furnishing a room. As the saying goes, the environment that you reside in, work in, is a silent portrayal of you. Curating a space according to your personality plays a pivotal role in speaking on your behalf, and you should always hold the reins and ensure that it articulates your work and brand in your favour. When choosing commercial and office furniture design, one should reflect upon these grounds.
Selecting a furnishing company that takes care of all your needs is crucial, yes, and so is your articulation. At Auraa design, an experienced team of professionals takes care of your requisites and helps you design a space that is almost an extension of you. Beautiful and aesthetic looking spaces promote a working environment that motivates people to live up to the aim of their brand and company. Not only does the Auraa Design furnish a new room, but their services also extend to the refurbishment of existing spaces and providing solutions that live up to the expectations of their clients.
So is a specially curated and uniquely designed office space essential, or is it just an unnecessary expenditure that you can save yourself from?
Why the experts suggest and stress on careful curation and selection of furniture
The Colour Cliche?
Most experts stress the importance of colours in our lives. And no, that does not mean we are devoid of them. By adding colours, they refer to harnessing the goodness and benefits that each colour brings into our work.
Curious?
Let's go over an example. Every colour has its unique proposals to offer, almost like your clients and team members. While it is essential to listen to every opinion, it is equally necessary to channel the right colours into your office and work environment. A report by Zenna O' Connor suggests that recent studies indeed have confirmed that specific wavelengths of light hold a different and distinct impact on human behaviour. Blue light improves cognitive performance, while the colour green is associated with relieving stress, healing those hurting, health-giving and soothing.
Conclusion-
The colour psychology is not a cliche or over-used subject. It is the most underutilised thing that is still waiting for people to harness their benefits and goodness.
But what about comfort?
While colours are significant, comfort can not be underplayed when designing office spaces. Compact and congested working environments lead to confused minds and garbled actions. It is not alien science, it's something we all have witnessed in our lives.
When designing an office space, one should take into consideration how much space the furniture is going to take and how much space is left for movement. Expert professionals will make sure this moving free space is not compromised, and that comfort of the client is the top priority. Efficient spacing is essential, so is the ventilation. Congested Furnishing hinders proper ventilation and thus affects the work environment.
Studies have found out that efficient planning, proper ventilation are the key to employee satisfaction and improve work productivity.
Conclusion-
Less crowded spaces and well-organised pieces of furniture enhance the efficiency and productivity of the work environment.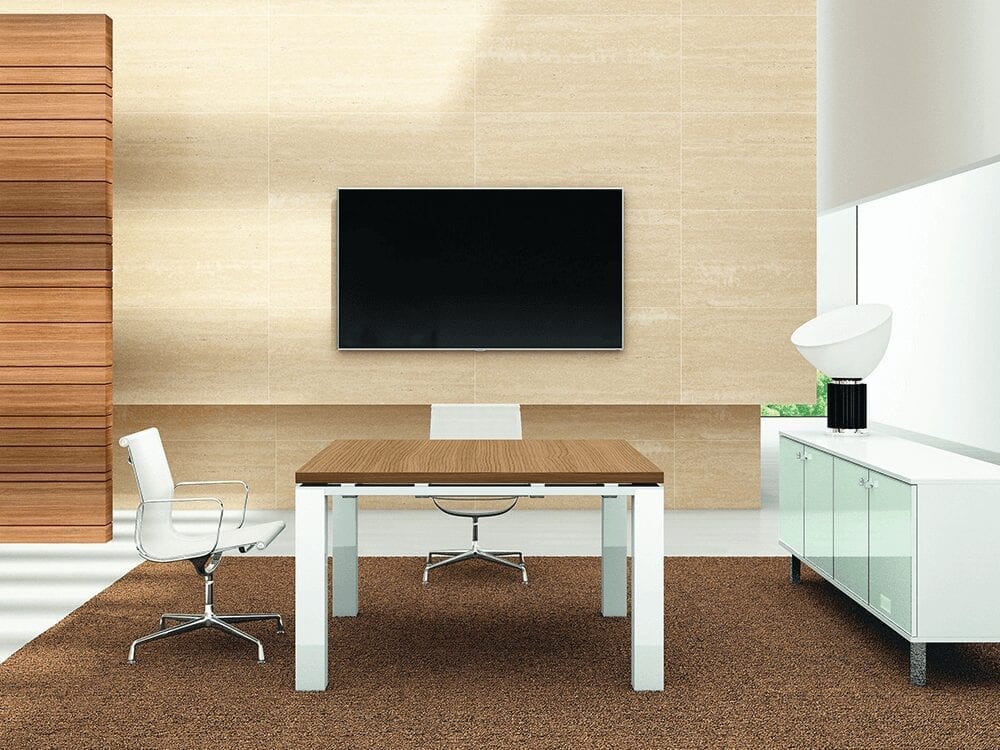 Collaboration, coordination-
After comfort and colour, the vitals of a productive and coherence of office space are the collaboration and coordination of the working employees in the office. Furniture that promotes conversations and collaboration of the colleagues and employees are equally important in the space. Small cubicles and private office rooms cause a hindrance in such cases while open, huge meeting room table that can seat many people at a single time will amplify the employee to employee conversation manifold.
Proper coordination is achieved when two people can sit and discuss their ideas together. So does a team of members achieve a well-coordinated working environment when they have a space to sit and hold discussions and share their perspectives and opinions?
Conclusion-
Conversations are an essential element of effective communication. To enable communication, one has to ensure that the office spaces have suitable furniture that promotes collaboration and hence provide ample space.
Creativity?
The productive working environment is not only achievable by the offices and brands that have huge spaces. It can be achieved in a small area, too. For this, one needs to be creative enough to know how to plan and design a compact space and make it look spacious. Compact spaces need more careful curation than the bigger ones as they can be quickly overcrowded with pieces of furniture and restrict movement.
Conclusion-
A well planned, organised and furnished working environment magnifies the work productivity with something as simple as touch creativity.
Cost-
Before venturing out to buy furniture, you should make a budget that you need to keep in mind when engaging in an expenditure. You mustn't go overboard when choosing furniture.
Thus, when choosing office and commercial furniture, you must pay heed to the above pointers.
The pointers are not merely a genuine effort to create alliteration; they are the crucial components that might make or break the deal.
If you are confused and unsure which furniture to buy, you should head for the Auraa Designs.
Along with their technical team who specialise in AutoCAD and 3D designing, Auraa Design have a team of creative interior designers who make sure they design the space exactly the way their clients have envisioned. These technicians will also ensure you visualise how the office space is going to look like after refurbishment with their AutoCAD and 3D design visualisation.