The reception or lobby area of your business premises, whether it's a large multinational company, a dentist practice or a small boutique hotel, needs to be one of the most captivating areas you can create.
This is the most front-facing aspect of your physical business, and many people are going to make an initial decision about your business as a whole from the moment they step through the door. If your reception desk looks worn down and scuffed, plants are turning brown from lack of water, or there is wallpaper hanging off the wall, visitors are going to judge not only the establishment but you as a brand, and even you as a person. This means that when it comes to making business deals or getting good reviews you've immediately let yourself down.
Nobody is expecting a waterwork and lightshow modern art installation in a grand casino style right there in the foyer, however there are lots of things you can do to create a good first impression, and an even better lasting impression of your company and brand.
Positive steps Auraa Design has compiled that you can take to brighten up this all-important area
1.The reception desk has to be the number one thing clients and visitors make a judgement on. A quality wooded reception desk or glass reception desk always creates a fantastic first impression. The modern materials and the clean look work wonders to heighten the sophistication of your business.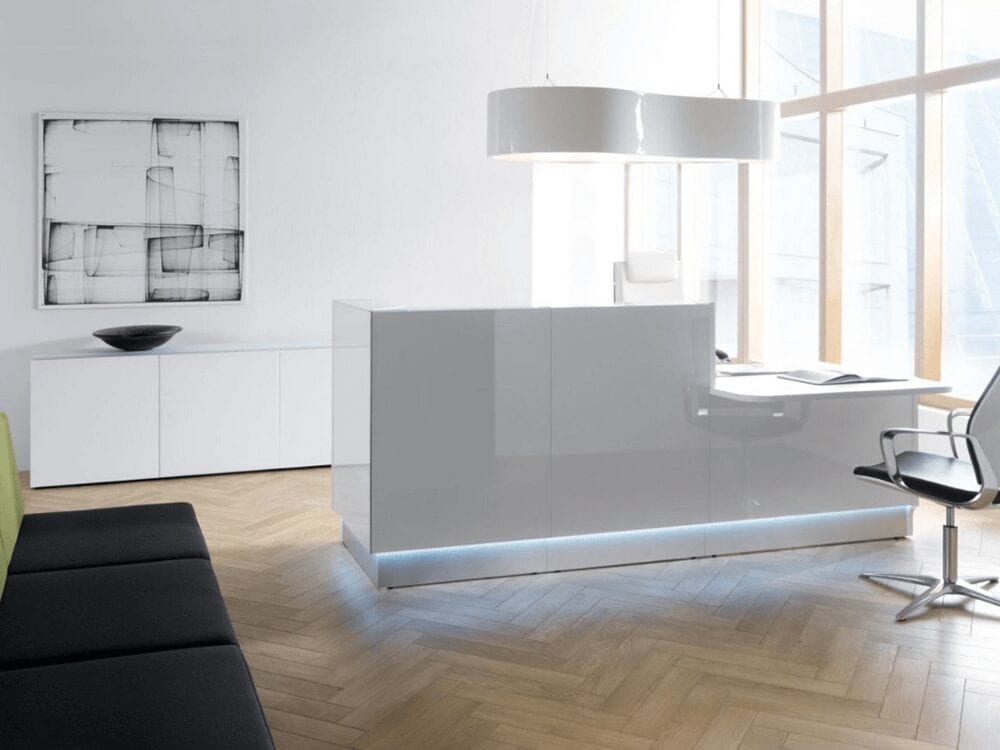 The stylish furniture you have in your reception area and foyer sets a precedent of how you operate in business. If your office furniture looks neat and trendy, then you are mentally projecting the fact that your company is equally as organised and on the ball in your sector. It doesn't matter if you have a small reception desk or a tiny reception area, it's how you use the space that counts.
2.Employ someone as a receptionist who has charm, personality and character and is well-presented. This person needs to be someone who has a genuine interest in your business, knows its ins and outs, and is highly focused on providing the best service to clients. Making sure that visitors are well taken care of and made to feel at ease is of high importance.
Whether your receptionist is old or young, the main thing that needs to be conveyed is a happy face and a smile to greet everyone who steps through your door, no matter if they're having a bad day.
3.Buy branded products for your company. Everything can be branded these days and it creates a very strong impression that your company is doing well, and that it has the strength and stability to last for many years to come, which inspires confidence.
Choose a selection of branded sweets or pens and other stationary to display on your reception desk. Of course, it goes without saying that your logo or brand name should be displayed in huge letters behind the reception desk to tie everything together.
4.Have art in your reception areas to draw interest and intrigue. A lot of subconscious things are going on by having art in your reception area and business. Not only does it show that as a business and a person you are intellectual, but it also lets people know that you have an appreciation for the fine things in life and culture, and that you will treat them with respect.By art we don't just mean wall hangings and sculptures, many modern items of furniture such as those designed by Auraa Design are works of art in their own right thanks to slimline designs, beautiful materials and contemporary styles.
5.Let the light in with natural lighting. It has been shown that natural lighting not only improves the look of your space, but it also makes people feel happier too.
Just a few of the benefits of natural lighting include:
a reduction in eye strain
less mistakes are made
mood is improved
people generally feel less levels of drowsiness
6.Bring the outside in. Whether it is a small pot plant placed strategically on the end of a curved reception desk, or whether you have the space to have huge ficus plants with glossy leaves on display, having some form of greenery instantly calms a space. This is exactly what you want for a collected and professional reception area to set the tone in your favour.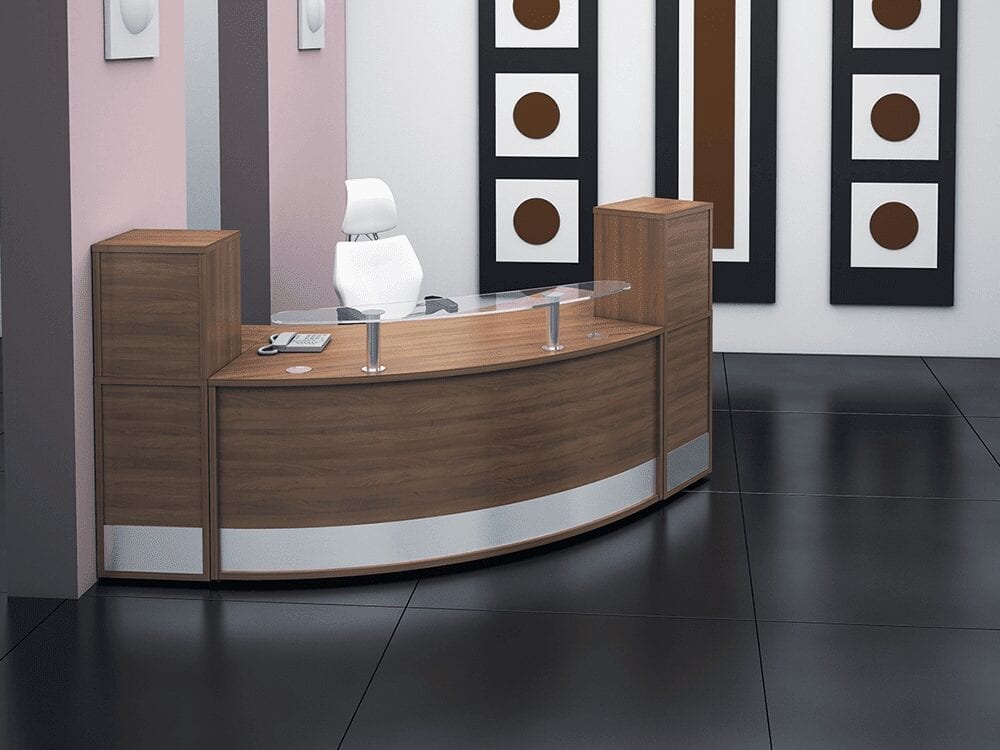 7.Choose furniture that will be durable. We've all seen those round reception desks in hotels that have scuffs and scratches on the surface of them from constantly passing keys and other items across them daily. Why not pay that little bit extra and really enhance your reception area with a quality wooded reception desk that is going to last for years to come?
If you're interested in giving your reception area a much needed renovation, then here at Auraa Design we can help. We offer a wide range of modern reception desks and chairs to make sure your business is a comfortable space that is easy on the eye and welcoming to guests. Get in touch today to see how we can help!