The place at which we work should be well-arranged and tidy so that the concentration is on the work only. Office sideboard is the solution to storage problems when it comes to arranging office stuff and essentials and keeping things in reach. To function efficiently in the workspace, the office cabinets and cupboards should be set up in a way that makes them clutter-free.
Types of office sideboards
There is a wide range of office sideboards that vary in material, shapes, sizes, different door options, and storage area. These sideboards can be bought according to one's requirements and needs at reasonable prices.
Modern lockable sideboard
The modern lockable sideboard is a smart investment to maintain confidentiality and keep items without any worry of being stolen or misplaced. Auraa Design uses the best technology and creativity to make modern lockable sideboards efficient and convenient with various door options. The drawers, as well as shelves, are designed with a lock system that makes the work essentials safe.
Wooden and metal sideboards
The office sideboard is not something that is only for maintaining files and other kinds of stuff. It also enhances the decor of the office, making your workspace look natural and contemporary. Wooden and metal sideboards at Auraa Design are made with perfect finishing that provides longevity and durability. They encompass different wooden textures and metals, which look elegant and fit into any colour or texture of the office.
Save space with wall-mounted sideboards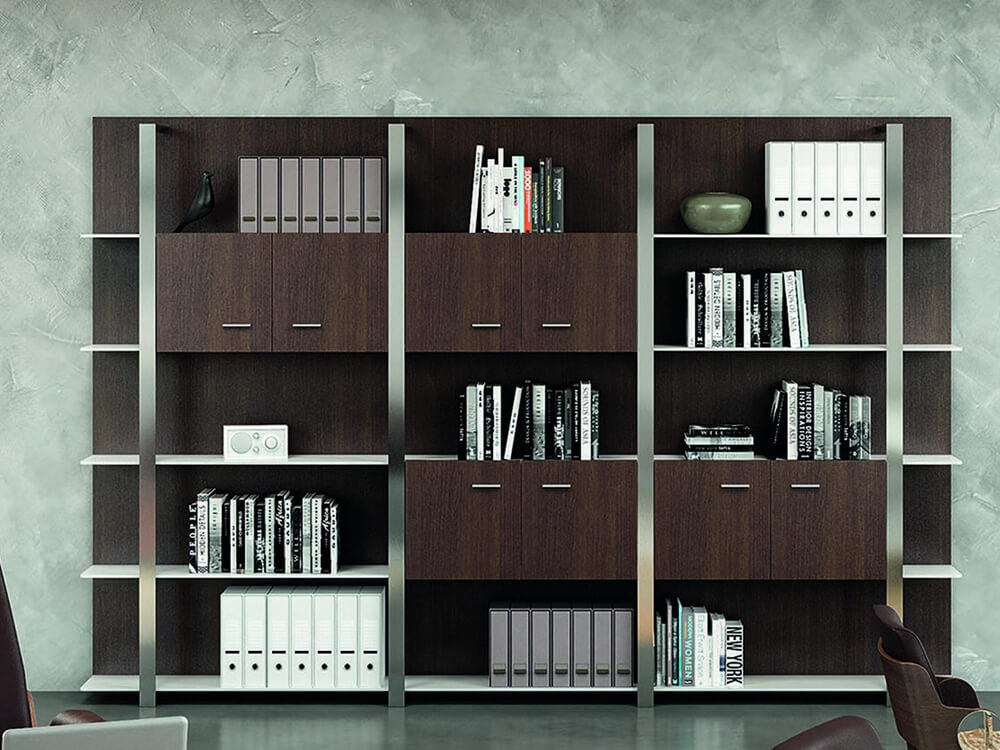 Wall-mounted sideboards, also known as floating sideboards, require a particular fixing system, but once fixed, they look amazing. It is very easy to clean the space around and underneath. The wall-mounted office sideboard at Auraa Design is a mixture of creativity and perfection where there is no need for a second thought. Their unique designs come with drawers and shelves which have enough storage space.
Have a look inside with a glass door
The transparent glass doors of office storage and sideboards make it convenient to find anything kept inside. This high-quality office furniture with glass doors available at Auraa Design looks no less than an expensive antique that matches any texture even without being transparent. The locks in the doors add to the benefits of these office cabinets and cupboards.
Sideboards standing on legs
Office sideboards that are designed with legs are the simplest yet classy option. The number of legs, however, vary among different designs. These sideboards at Auraa Design are designed with drawers and cupboards; some of them may have display surfaces. They do have enough storage area, doors, shelves but their wooden texture and designing make it royal and eye-catching.
High and low office sideboards have varying benefits. Auraa design has everything for your high and low storage units. Low sideboards are also used as a display surface where decorative materials are kept that add to the interior aesthetic of the office.
High sideboards work great when maximum storage space is needed. They serve best when more and more office cabinets and cupboards are required. One of the most beneficial styles of high sideboard is the one with a cupboard at the top and a worktop in the middle.
Perfection with customization
Worktop or any extra shelf for decoration may be designed in these customizable sideboards. This option allows you to match the sideboards with the rest of your office furniture, allowing a uniform look in the workspace. Customized sideboards at Auraa Design are designed keeping in mind the budget, office cabinets and cupboards requirement, space, and material.
Choosing the right office sideboards
Before buying sideboards, you should check them properly. Things that should be considered are:
Material: The material of the sideboard makes it durable, so detailed verification is needed to know that the material is exactly what has been ordered and that the material used is original.
Finish: Since the style and design of office sideboards attract customers, the different styles might not have a good finish. This leads to screws and metals popping out and causing cuts and tear pages or clothes. A keen eye all around the sideboard is a must.
Storage: The main purpose of the sideboard is to contain work essentials. Apart from decoration space and everything, the storage area must be checked. The shelves, drawers, and cupboards should be spacious according to the size of the cupboard.
The right office sideboard is the one that functions according to your needs. Whether it is a high or low sideboard or a glass door lockable sideboard, it should serve its purpose along with being an antique. The various options available online has made it easy and convenient to pick as many as you want after checking properly with reviews and ratings. At Auraa Design, you get a vast range of office sideboards at the most reasonable prices.