The reception area is responsible for putting the first impression on your clients. That area reflects the core values and professionalism of your business and how you run it. It is the first place to greet your clients, who learn more about your company while waiting there. If properly designed, the reception area can leave a warm and positive impact on your customers, who are more likely to be associated with you for the long term. Apart from them, your employees too shall feel welcomed at their workspace.
A beautiful reception desk plays a major role in setting up space. Let us explore some of the impressive pieces available!
Ten best options for reception desks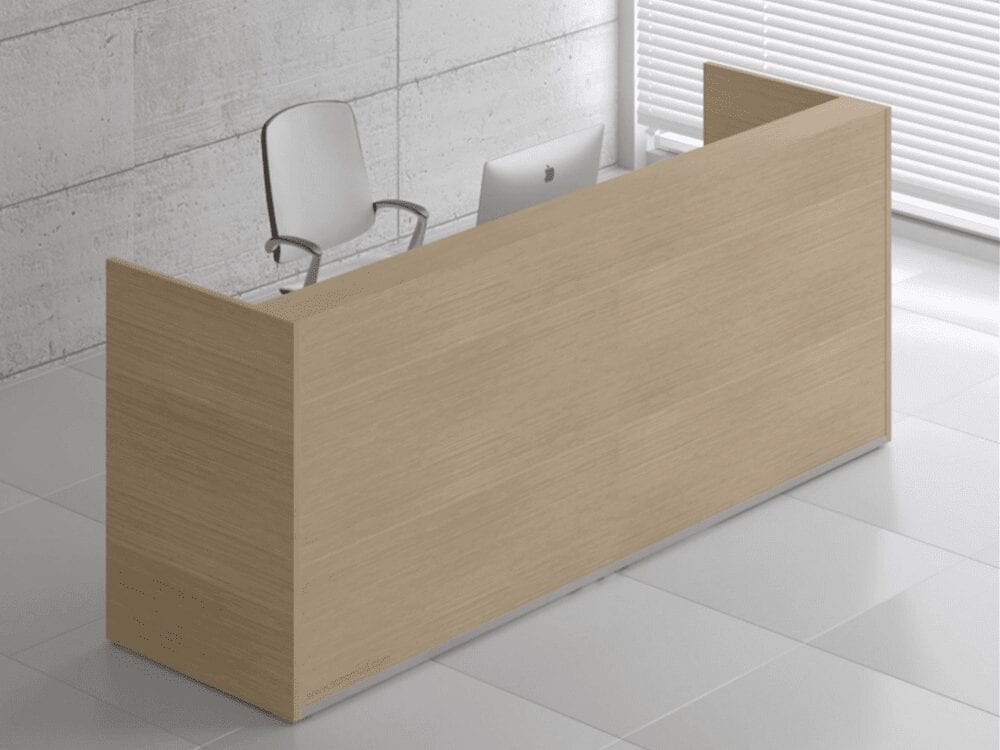 (Price from – £588.13 + VAT)
If you want a simple yet elegant piece for your reception area, this is the best bet. There are five design choices available, along with various layouts. This small reception desk design fits in accountancy and law firms, hotel lobbies, etc.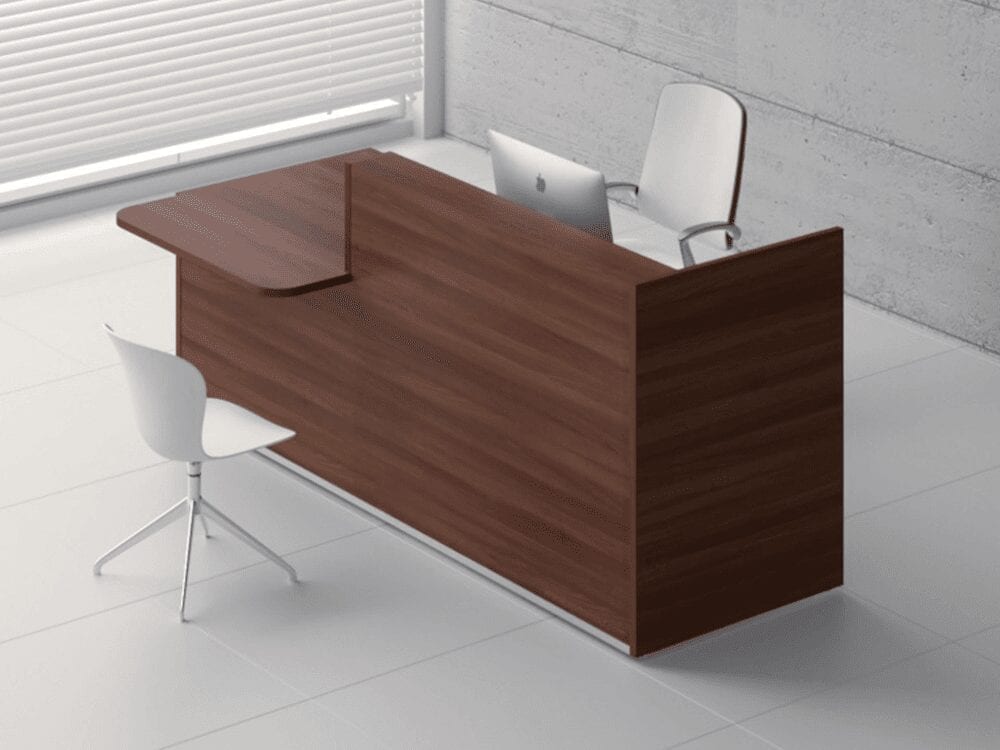 (Price from – £941.42 + VAT)
This reception desk is compatible with wheelchairs, making it more welcoming to clients of every background and personality. Twelve finishes are available, including Black, Beech, Grey Oak, Cocoa. Features of LED lighting are also available.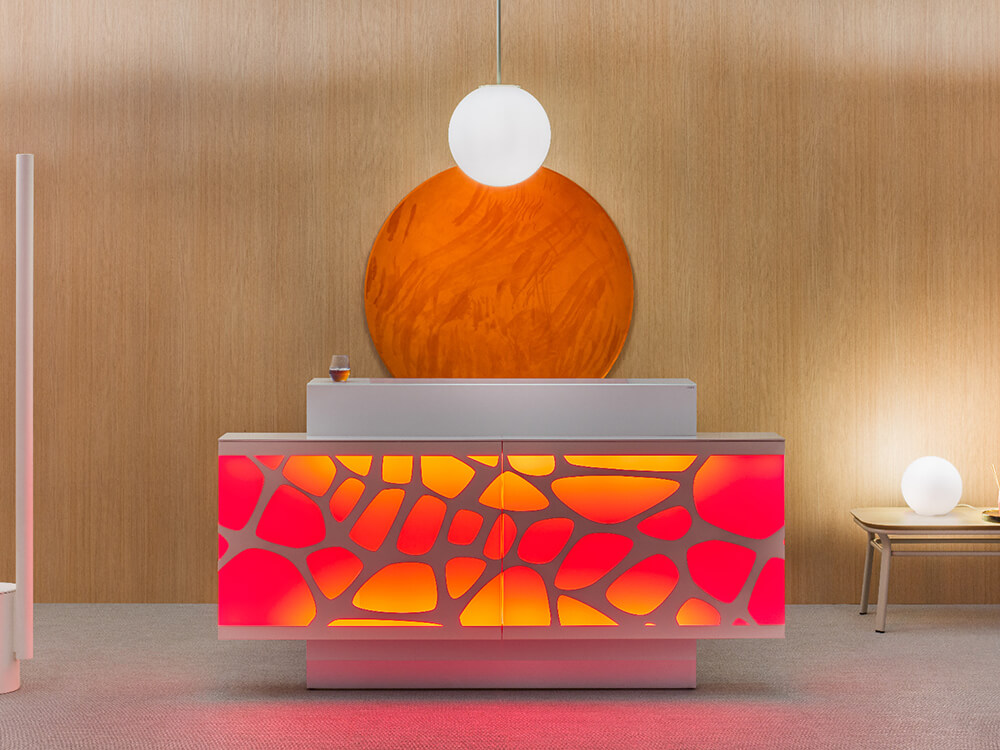 (Price from – £1,230.85 + VAT)
The abstract design with an innovative touch is all set to mesmerize your clients. Coloured tubes built within the desk provide the LED effects. The desk gets your creativity flowing along with a feeling of being in a disco or party club. The 1400 size doesn't come with light, unlike the 1000 size.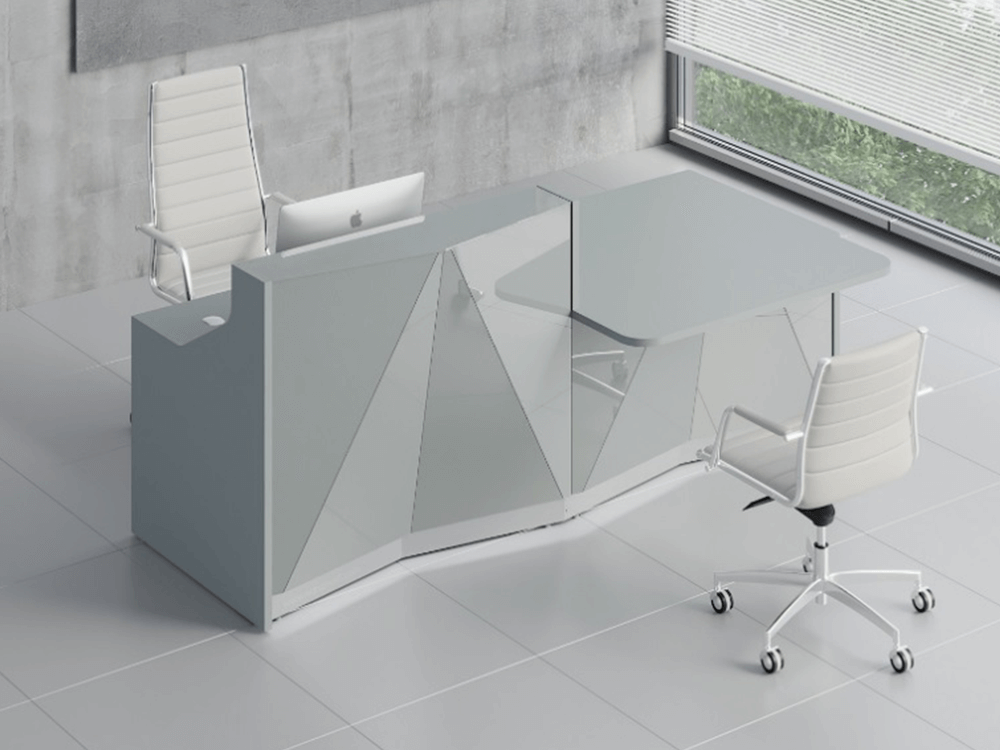 (Price from – £4,401.29 + VAT)
A luxurious reception desk which is available in various sizes is truly an example of great taste. May it is in black, white, or silver, your clients are bound to notice the simplistic yet modern design. The front and top are made up of glossy glass, which is yet another attraction.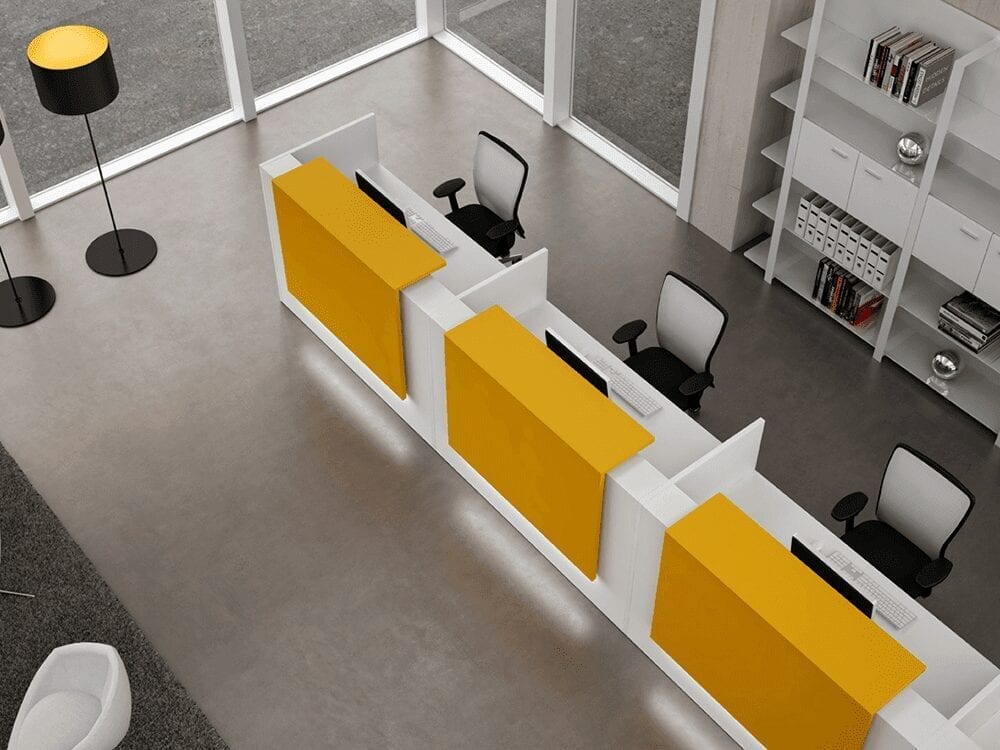 (Price from – £2,359.81 + VAT)
This piece rightfully abides with the saying, "The bigger the better". With a long reception desk, there are three counters attached adjacently. Full privacy is available for the receptionists since the counters are separated by panels. We have an option for two counters as well. Wooden laminates and a glossy appearance gives the final touch to this perfect piece. The lacquered panel finish is available in multiple colours like white, shadow grey, flame red, pigeon blue, etc.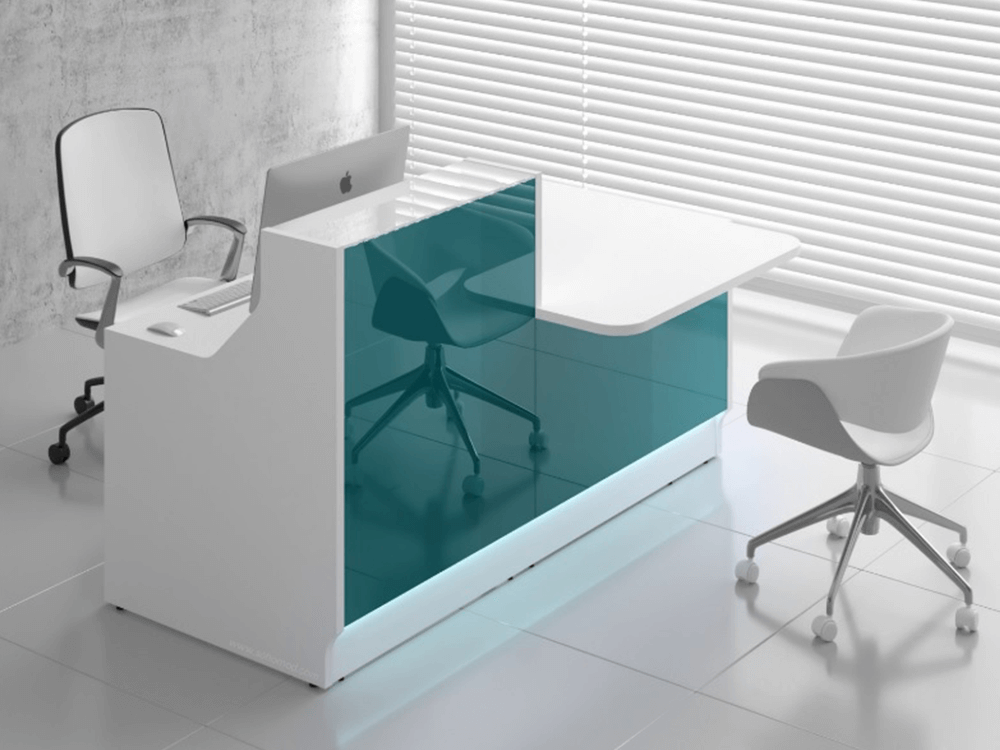 (Price from – £2,585.45 + VAT)
A great choice for modern businesses, Finley is a handsome and glossy piece of work. With an inbuilt LED desk, your clients are going to be impressed easily. The body finish is available in three colours – Black, White, Aluminium Satinato. The front glass finish can be made in colours like yellow, pink, dark turquoise, silver, etc.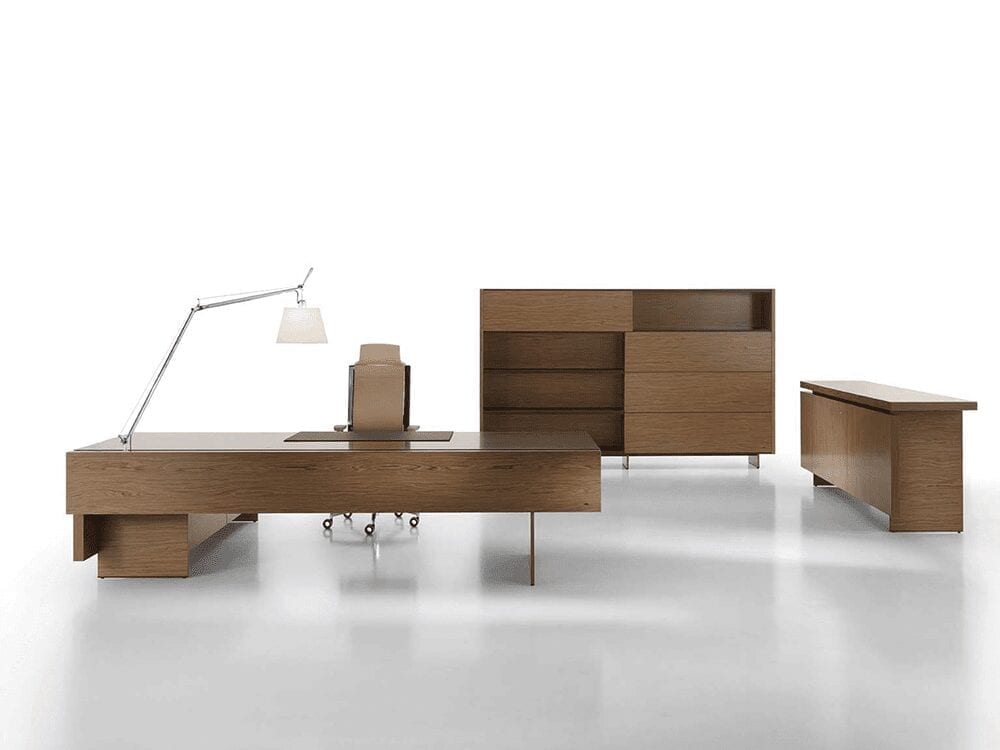 (Price from – £3,383.65 + VAT)
A low-key option having a leather accent top and a wooden finish. An optional credenza unit, functional desk, and art piece completes the look. The choice of walnut is a sign of classic taste. For the leg finish, you have options such as anthracite, dark brown, beige, red.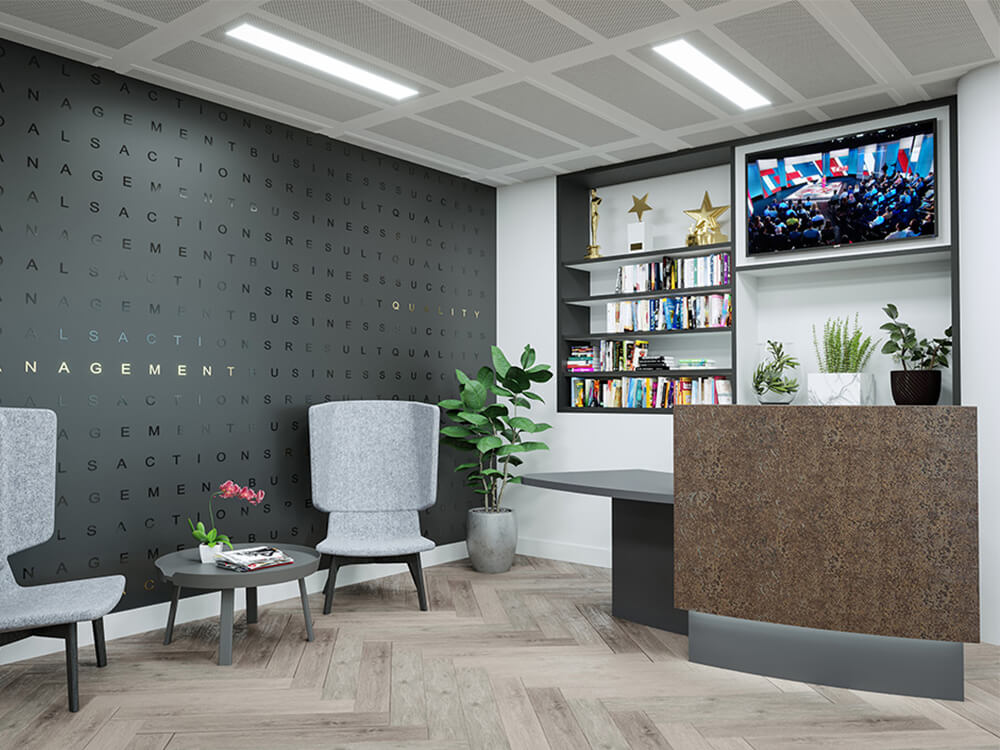 (Price from – £3,825.94 + VAT)
The reception desk has a modernistic and sophisticated look, which will leave a positive impact on your clients. With natural matte colours and wood grain lamination, this desk is great for any business. An option of LED lighting is available to accentuate the beauty.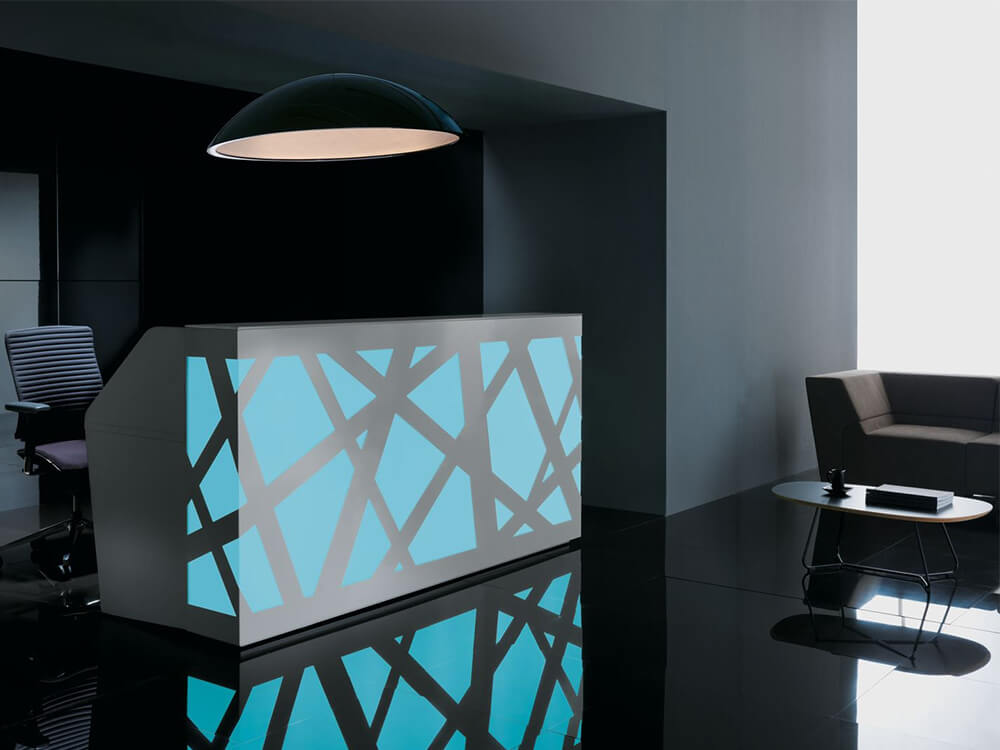 (Price from – £3,830.83 + VAT)
The elegance of this piece with a glass white upper top is unmatchable. A great example of a small modern reception desk. The ambience set up with the LED lighting makes it perfect for bars, offices, party places, etc. The front portion has options of green, orange, and yellow lights. The abstract design shall dazzle your clients instantly!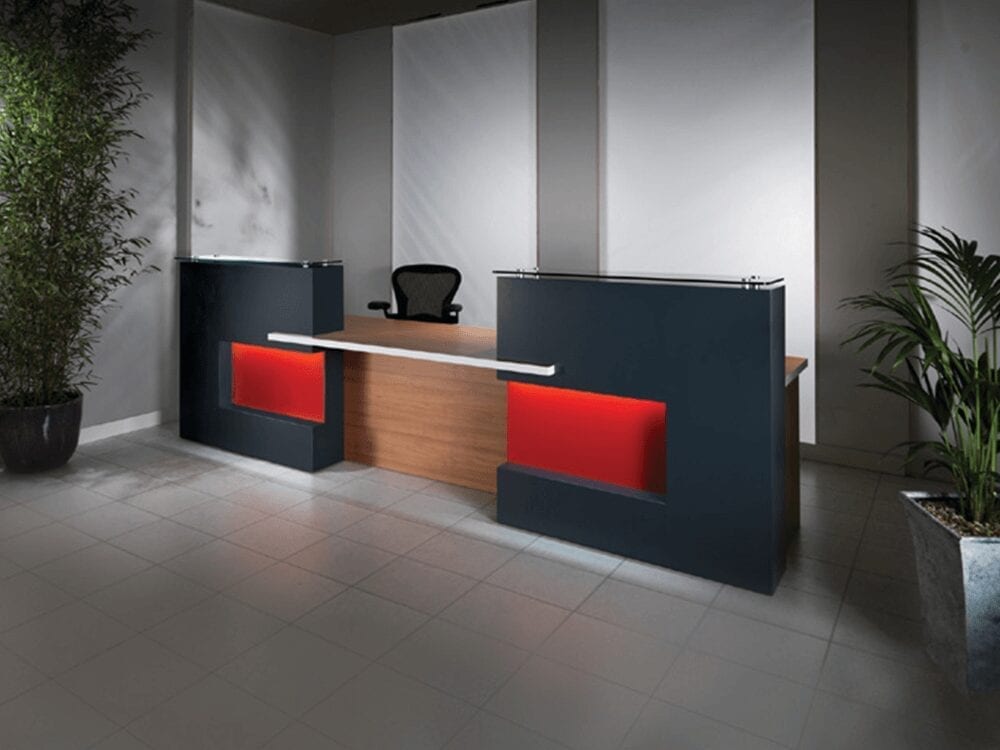 (Price from – £5,435.57 + VAT)
This all-in-one desk has some desirable features in it, including wheelchair access, glass top, LED lights, etc. Available in various sizes and colours, it's a perfect fit for your office. The finish has colour options like chilli red, black, Light Grey, Smoke Blue, etc.
At Auraa Design you'll find reliable and affordable reception desk design plans, along with customer assistance at every step. Call us at 02039158008 for an exact storage plan and matching with your office. For more information, visit the website or drop us an email at info@auraadesign.co.uk.